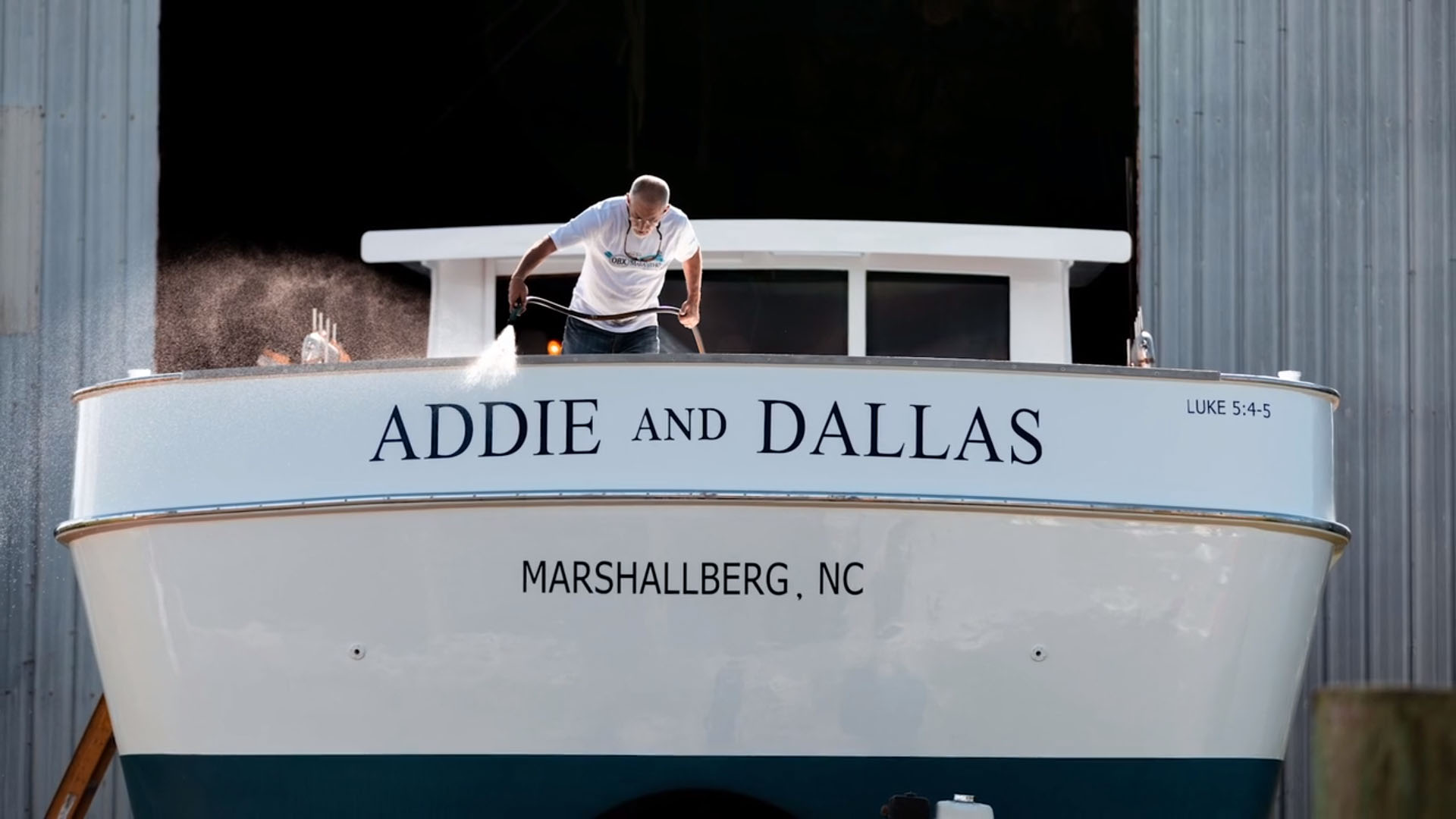 Jarrett Bay's New Construction Superintendent, Gary Davis is a third-generation boat builder. In his twenty-year career with Jarrett Bay, Gary has helped design and oversee the construction of over 30 custom sportfishing boats. His son Zack has carried on the family tradition by hand building a one-off shrimping boat for the eastern North Carolina shores. This is his unique story.
Zack has been in the commercial shrimping industry from the age of 12, when he was in a 20 ft skiff, pretty much right out in front of his house. He handled all the gear by hand and learned to construct nets, trawl doors, winches and more.
Gradually, Zack purchased a series of larger boats and the normal grounds of his operations expanded. First, into the majority of Core Sound, and then into Pamlico Sound and nearshore ocean, as the shrimp harvest would progress through its natural yearly cycle.
When not shrimping, Zack was hard at work pursuing education for his other passion: a career in teaching. He graduated from UNC Wilmington and then went on to NC State to earn a masters degree. Ultimately, Zack secured a teaching position at East Carteret High School where he continues enriching the lives of students to this day. During the summer, shrimping is his full-time profession and supplies the majority of his total income for the year.
The Build
Zack decided to build this boat to focus primarily on shrimping throughout the Pamlico Sound fishing grounds. With the current proposals under consideration at the state and federal levels, the possibility exists that the entire area of trawling grounds which support the shrimping industry in eastern North Carolina would be effectively closed to trawling, which would result in the elimination of the industry as it is known today.
A combination of the uncertain future, along with the financial burden of constructing such a boat like Zack has built, has essentially eliminated any commercial boat building facility to supply new boats to the industry. Very likely, this will be one of the last (if not literally the very last) commercial boat in this class to be built in eastern North Carolina.
Zack has a very unique situation, in that he is part of 4 generations of boat builders, starting with his great-grandfather, Ray Davis, one of the pioneers of sportfishing boats in North Carolina. Bernie Davis, his grandfather was also was briefly in the boat building industry. Then, there is Zack's father Gary Davis, who began Sleepy Creek Boatworks, and ultimately merged with Jarrett Bay Boatworks. There is quite a connection to the art of boat building, and Zack is lucky enough to have grown up and lived literally in the yards of all of these generations. That connection, coupled with a unique personality and innate ability, has enabled him to take on such a daunting project, and also have the dedication and focus to see it through the long construction process to completion.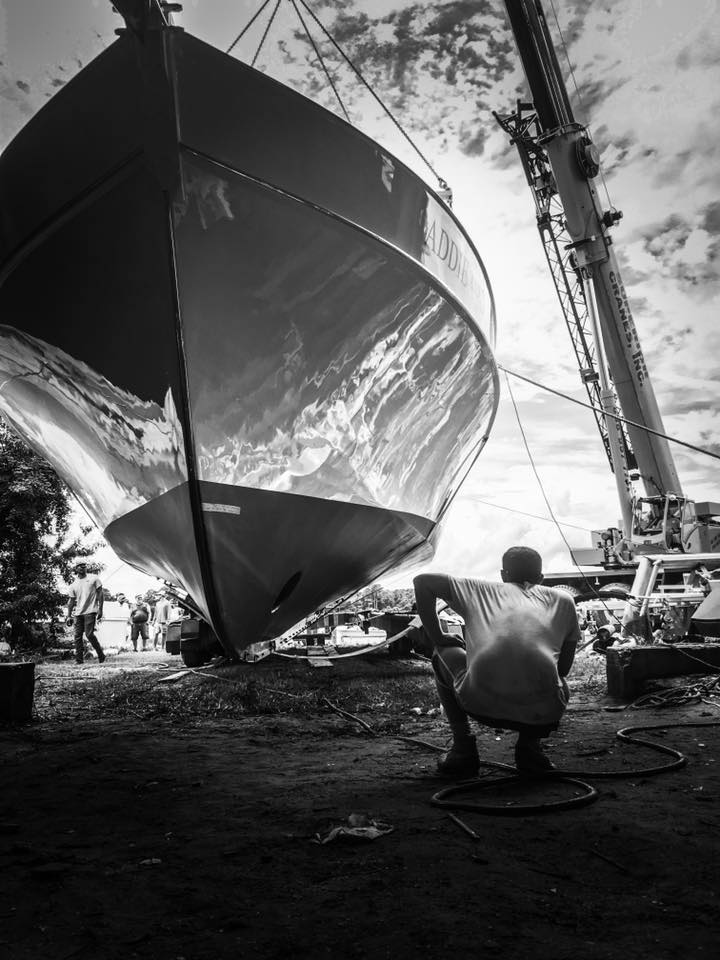 This particular boat was designed as a collaborative project by Zack and Gary Davis, to be suited ideally for the targeted shrimping business of eastern North Carolina. Since the Sleepy Creek Boatworks facility is still at its original location (on the site of Ray Davis Boatworks in Marshallberg, NC), Zack had the very unusual combination of having a site to construct the boat, as well as constant access to a true boat builder to help with any questions and offer assistance during off hours and weekends. Zack also benefitted from having family and friends to help with the hundreds of man-hours of labor to enable the construction to happen.
The Addie and Dallas has an overall length of 56′ with an impressive and stable 18′ beam. Powered by a single diesel engine with traditional prop shaft and rudder, Zack's custom boat draws 4′ of water. After 2 and a half years of construction, Zack's lifelong dream to build his own boat has been fulfilled. Now, the next chapter in this story will be shrimping the Pamlico Sound this fall aboard the last new shrimp boat.