Announcing New Outboard Service Specials!
New 4-Stroke Outboard Service specials at Jarrett Bay! Our factory-trained and certified technicians service all major makes of outboard engines including Yamaha, Suzuki, Honda, Tohatsu & Mercury. Contact us now to schedule your next service and enjoy great savings on professional maintenance for your outboard engines. Jarrett Bay's outboard service division is conveniently located on the ICW in Beaufort, North Carolina.





4-Stroke General Service
This service includes oil & filter change, lower unit oil change, fuel filter replacement and a diagnostic computer printout plus applicable taxes.
75hp – 115hp: $149.99
150hp – 200hp: $169.99
225hp – 250hp: $189.99
300hp – 350hp: $209.99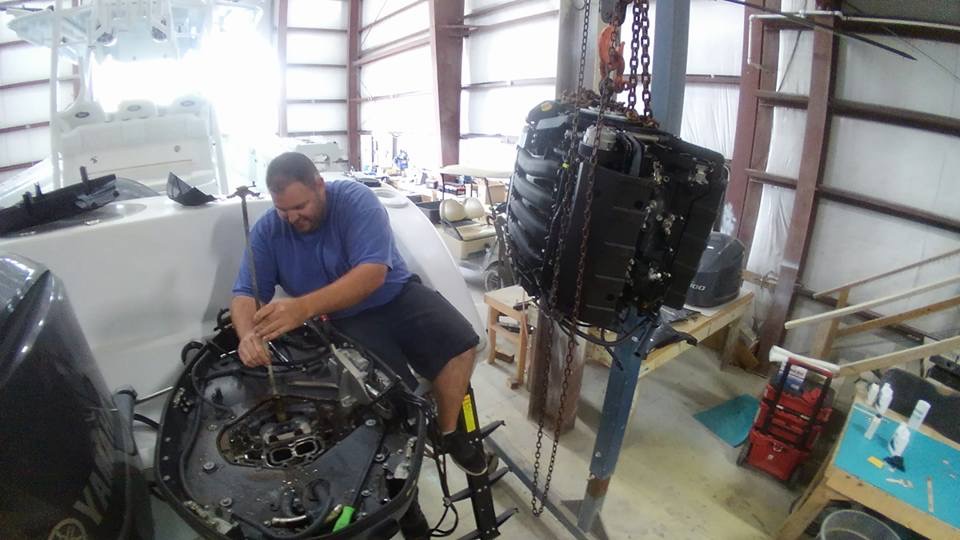 Certified Yamaha Outboard Service
Jarrett Bay Marine's new state-of-the-art service facility offers 20-hour services, annual maintenance including winterization, Yamaha warranty work, along with all major and minor repairs utilizing only Yamaha Genuine Outboard Parts. Our outboard engine experts can service any Yamaha engine no matter the year or size including 4-Stroke, 2-Stroke, V8, V6, V-Max, SHO, and HPDI. With over thirty years of providing exceptional service to boaters in Eastern North Carolina, we're pleased to offer our customers the best in outboard, inboard gas and I/O service.

2-Stroke & 4-Stroke Outboards
Factory Trained
Five Star Certified
Yamaha Genuine Parts
Yamalube Oils & Additives
Warranty Work
Hourly Service
Maintenance & Repairs
Fuel Conditioning
Winterization
Inboard Engine Repair
Repowers
We have updated our outboard service operations with serious investments in skilled talent and diagnostic & service equipment that can provide dock to dock service especially for larger outboards such as a Jupiter 41 with Quad Yamaha F300's or an Albemarle 29 Express with Twin F350 V8's.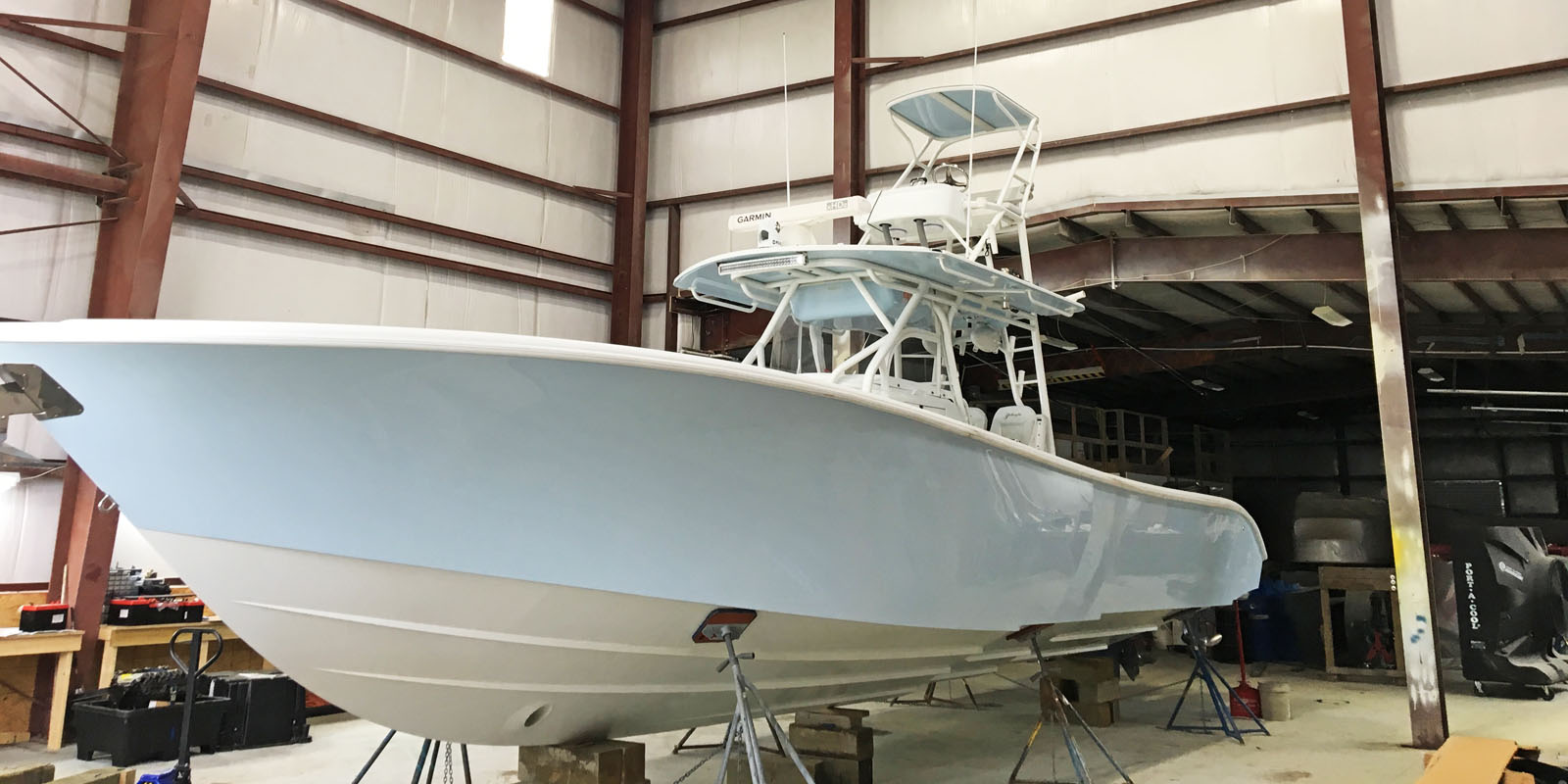 Yamaha Outboards Service Interval Checklist
20-Hour 4-Stroke Service
Replace gear oil in lower unit
Remove prop and inspect prop, prop shaft and seal
Change engine oil and replace oil filter
Replace engine primary fuel filter
Replace boat water separator
Check for water leakage throughout engine
Check power trim operation
Check battery condition and connections
Adjust linkages and controls
Test run engine and check shifting
Exterior inspection of engine
Check and adjust cowling latches and seal
Reset maintenance interval on gauge(s)
Annual Service 2-Stroke Carbureted
Check engine compression
Replace gear oil in lower unit
Remove prop and inspect prop, prop shaft and seal. Lube propshaft
Replace water pump impeller & inspect related components
Replace engine primary fuel filter
Replace boat water separator
Replace spark plugs
Replace thermostats
Inspect/replace zinc anodes
Replace remote oil tank filter
Replace engine oil tank sight tube and check for water in system
Check operation of oil transfer system & test oil tank sensors
Check for water leakage throughout engine
Check power trim operation and top off fluid
Check battery condition and connections
Inspect fuel system and check for leaks
Adjust linkages and controls
Adjust idle speed
Check and adjust cowling latches and cowling seal
Inspect steering and top off steering fluid
Top off any other hydraulic fluids (trim tabs, power pole, jack plate, etc.)
Grease engine at all grease points & spray other areas with corrosion inhibitor
Exterior inspection of engine
Test run engine and check shifting
Reset maintenance interval on gauge(s)
Annual Service 2-Stroke HPDI
Check engine compression
Replace gear oil in lower unit
Remove prop and inspect prop, prop shaft and seal. Lube propshaft
Replace water pump impeller & inspect related components
Replace engine primary fuel filter
Replace HPDI filter
Replace boat water separator
Replace spark plugs
Replace thermostats
Inspect/replace zinc anodes
Replace remote oil tank filter
Replace engine oil tank sight tube and check for water in system
Check operation of oil transfer system & test oil tank sensors
Check for water leakage throughout engine
Check power trim operation and top off fluid
Check battery condition and connections
Inspect fuel system and check for leaks
Inspect high-pressure fuel pump belt condition and tension
Inspect high-pressure oil pump operation and hoses
Adjust linkages and controls
Adjust idle speed
Check and adjust cowling latches and cowling seal
Inspect steering and top off steering fluid
Top off any other hydraulic fluids (trim tabs, power pole, jack plate, etc.)
Grease engine at all grease points & spray other areas with corrosion inhibitor
Exterior inspection of engine
Test run engine and check shifting
Reset maintenance interval on gauge(s)
Annual Service 4-Stroke EFI
Replace gear oil in lower unit
Remove prop and inspect prop, prop shaft and seal. Lube propshaft
Replace water pump impeller & inspect related components
Replace engine primary fuel filter
Replace boat water separator
Change engine oil and oil filter
Replace spark plugs
Replace thermostats (except on V6 & V8 engines)
Inspect/replace zinc anodes
Inspect timing belt and tension
Check for water leakage throughout engine
Check power trim operation and top off fluid
Check battery condition and connections
Inspect fuel system and check for leaks
Adjust linkages and controls
Check and adjust cowling latches and cowling seal
Inspect steering and top off steering fluid
Top off any other hydraulic fluids (trim tabs, power pole, jack plate, etc.)
Grease engine at all grease points & spray other areas with corrosion inhibitor
Exterior inspection of engine
Test run engine and check shifting
Reset maintenance interval on gauge(s)