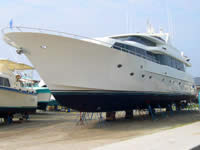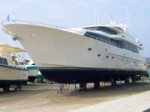 Another fall and winter season is upon us as a successful spring and summer season winds down. The 106\' West Ship was hauled for annual maintenance prior to heading South for winter. The 68\' Hatteras, and the 68\' Jarrett Bay arrived from Bermuda after having fantastic fishing there to complete an availability & get ready for the winter season. The new 60\' Hatteras is here having the hull painted and new granite counter tops, outriggers&fighting chair installed.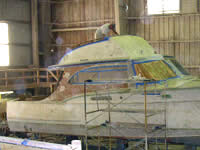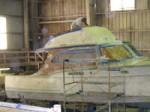 The 1965 43\' Rybovich arrived by truck from a boat yard on Long Island, New York where it sat for the past two years. This classic will undergo a major facelift as we complete a full fairing and painting of the vessel, renewal of all brightwork, new teak covering boards and cockpit decking, new cockpit cabinets, and completely revamp mechanical and electrical systems throughout.
We will also be renewing the fuel tanks and water tank. Bausch American will install a new tower and IMS Electronics will install a new electronics suite on the vessel. New engines, electronic controls and ZF gears will power the vessel back to glory as it plies the Atlantic waters next spring.
The 58\' C&L arrived to paint the hull, install recessed sea chests and a Delta T moisture eliminator system. We are anxiously awaiting the 100\' Hatteras M/Y's and the schedule to arrive for availabilities on their way south. The 62\' GTD Jarrett Bay has arrived for new covering boards, custom cockpit cabinets and other maintenance items. The 56\' CS Jarrett Bay arrives to have an additional generator installed and other maintenance items accomplished prior to departing for Costa Rica for the winter.
We recently purchased an additional 50-ton lift and a 9-ton fork truck from 70 West Marina when they closed to allow us to reduce haulout and launch times. We have installed a floating dock to haul smaller vessels with our fork truck more efficiently. We hauled 85 vessels in anticipation of Hurricane Ophelia and the addition of the additional lifts facilitated a very smooth hurricane haulout season this year. We are now able to haul even more customers for hurricanes in the same amount of time. Please note that we reserve guaranteed hurricane haul outs each year and will be sending reservation letters out early 2006 to 2005 customers. Please complete the hurricane haulout form and mail them in promptly to reserve your space for the 2006 hurricane season. Only JBBW customers are eligible to receive priority reservations.