There's a long tradition of craftsmanship in custom Carolina boat building. For more than two decades, Jarrett Bay Boatworks has carried that tradition onto increasingly higher levels of excellence. From the start, the goal of founder Randy Ramsey was to build superior boats using superior methods, and materials applied with the same care as his forebears. But Ramsey also envisioned higher speeds, better handling, sleeker looks, and the highest degree of finish. That vision is realized every time a new Jarrett Bay is launched. It's not just that marine plywood, fiberglass and epoxy have been substituted for juniper planking, caulked seams, and galvanized fastenings. Other builders construct cold-molded boats. The Jarrett Bay difference lies in utilizing the properties of these materials to their very best advantage so that the sum is greater than the whole.
The Jarrett Bay difference lies in continually evolving the form of a sportfishing yacht; in envisioning what it could be, instead of simply rendering the same boat again and again.  Yes, in the great tradition of the North Carolina coast, craftsmanship exists in the fitting of every part of a Jarrett Bay with the utmost care. But more than that, each part, each fastener, indeed every stroke of a brush or turn of a wrench is considered as being part of a larger whole – producing greater speed, greater efficiency, better handling, and of paramount importance, ensuring every part or piece of equipment best fulfills the desires of the customer. Just as all rivers lead to the sea, every component aboard a Jarrett Bay leads to exceeding your sportfish dreams.
Few ventures are as demanding and complex as building a sportfishing yacht of 50-, 60, or 70-feet. It requires the coordination of a wide range of specialties, from engineering and propulsion to interior designers and painters, to weldors and electricians. That's just to get it to run right and float on its lines. To achieve true excellence and hit every one of the nails you requested square on the head requires a group of professionals, each committed to doing the very best work possible. It requires people like the family of highly skilled craftsmen at Jarrett Bay. People steeped in the tradition of Carolina boat building.
Under Construction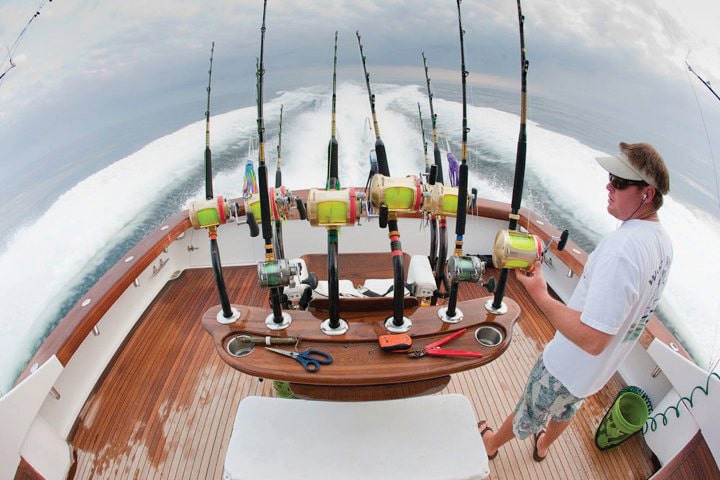 "What an incredible environment from which to fish. Jarrett Bay has combined muscle and beauty into a single, organic fishing entity."
Want to learn more about the construction process?
Follow along on our most recently completed build for in-depth descriptions and photos of the entire process!