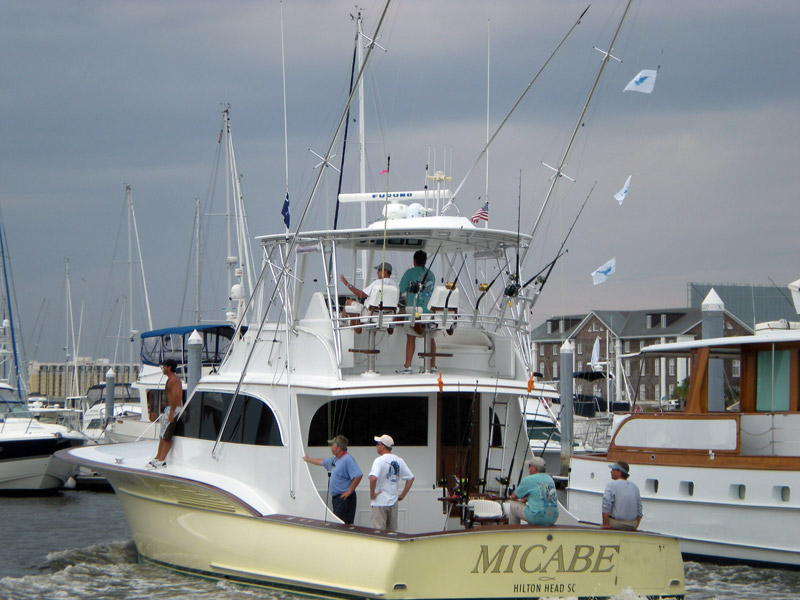 This past week, Mike Larrow and crew won the MegaDock Billfish Tournament and South Carolina Governor's Cup aboard his 55′ Jarrett Bay, Micabe. The team released 9 sailfish over 2 days to take the championship – Congrats to Mike and every one involved!
Recap by Tommy Braswell of the Post & Courier:
The crew of the Micabe did a lot of sweating during Saturday's final day of fishing in the HMY/Viking MegaDock Billfishing Tournament held out of the Charleston City Marina.

Having already used their two allotted fishing days, several of the crew members burned off nervous energy mowing their yards, much to the dismay of neighbors who preferred sleeping in. Micabe owner Mike Larrow of Ridgeland and his son-in-law and captain Chris Jennings tried to relax on the boat as they awaited the results of the 63 boats that still had an opportunity to fish Saturday.

"We were both OK … until we looked at each other," said Larrow, who keeps his boat at nearby Ripley Light Marina.

But the decision to pile up as many points as they could Thursday and Friday paid off in a big way. Larrow's 55-foot Jarrett Bay not only won the MegaDock Tournament, but also captured the South Carolina Governor's Cup championship.

Micabe accumulated 1,800 points for releasing nine sailfish and won a total of $130,247.50. Second place went to another boat that had already used its two fishing days. Miss Annie, owned and captained by Matt Rabanstine, finished with 1,600 points for eight sailfish releases. That was worth $75,157.50.

"I've fished the Governor's Cup since its origination," said Larrow. "We've been close (to winning) a few times, but never won a Governor's Cup event. "

Rameseas finished with 1,500 points, while Rookie IV and Flybuoy both had 1,400 points.

Over the course of the tournament, the 74 boats released a Governor's Cup record 151 billfish, including 138 sailfish (200 points each), eight white marlin (300 points each) and five blue marlin. In the 2006 MegaDock tournament, 131 billfish were released.

The top lady angler in the tournament was Kathy Baxley aboard Fly Buoy. Drew Nettles, aboard Short People, was the top youth angler.

Governor's Cup participants are allowed to fish two out of three days, captain's choice, and with several boats already at 800 points, Micabe's nervousness was understandable.

Larrow said he knew after Friday that the crew's decision to put points on the board early was the correct one.

"The guys who had to have five sailfish (to tie) had to have six to beat us," he said. "We made the right decision. The bite was there today, but not as good as it was yesterday. We were very fortunate."

Baxley released all three eligible billfish, a blue marlin, white marlin and sailfish, although not all in the same day.

Nettles landed a 20.9-pound dolphin.

The top dolphin in the tournament was a 42-pound catch by Willy Bell aboard Blue Sky. Billy Ingram, aboard Reel Passion, had the top tuna, a 21.1-pound blackfin. Bobby Krivohlavek, aboard Reel Hooker, had the top wahoo at 59 pounds.