Jarrett Bay is pleased to offer Winter 2009-2010 Storage Specials for all vessels up to 120′ in length and 30′ max beams, not to exceed 220 tons.
20% discount on haul, block, launch, storage and electrical power

for vessels being hauled for storage for 3 months or more. Half price power-wash included!

10% discount on labor and materials

for work performed by our staff while vessels are in storage
Winterization services are recommended and available upon request. Owners/Crew are allowed to live aboard in preparation for arrival and departures for a period not to exceed two weeks without incurring additional fees. Do-It-Yourself work is allowed.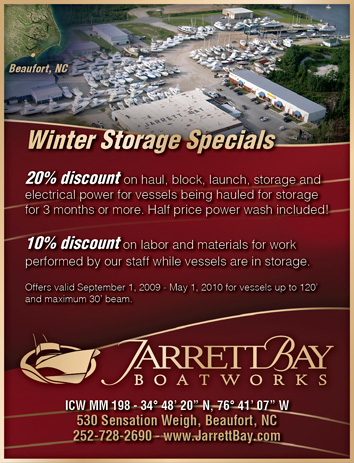 Specials are effective for vessels arriving on or after September 1, 2009 and departing by May 1, 2010. Specials cannot be used with any other promotion. All stored vessels must be insured and in sea worthy condition upon arrival.
Contact us at (252) 728-2690 or e-mail Kendra Lawrence or Jeff Fulcher for a free estimate!