During the past couple of weeks, the boys down at Jarrett Bay have been busy working hard on all the little, less-than-exciting things that go into making a custom sport-fisher. Things like where to put the fuel and water fills, how to position the fuel tanks and making sure everything is easy to maintain and work on. Since I plan on doing a lot of the service work myself, I want to make sure I can get to everything.
This stage of the game comes with a lot of compromises – if you put this thing here, then you have to make room over there, etc. To be quite honest, most of the ideas are coming from the Jarrett Bay crew, and I just say yes or no; I really have no idea what's the best call on some of these things, but I trust the guys working on the boat. They give me the pros and cons, but I lean on them pretty heavily.

We just got some veneer samples in, and I'm leaning on some mahogany colors – I like darker-colored woods with a satin finish. I don't like a glossy look, and I think the satin finish gives the wood an aged look, like it's been around for some time.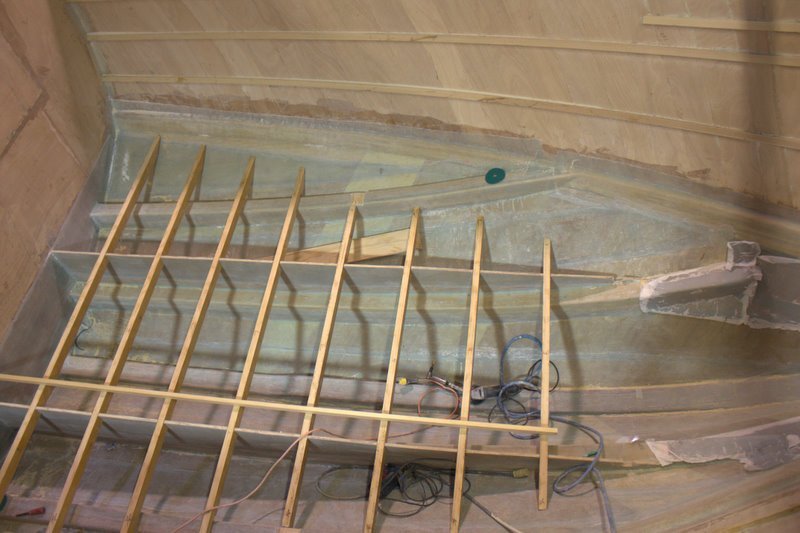 Right now I'd say we are about 30 percent along on the build, and the crews are concentrating on the more mundane – although important – aspects like cabinetry. But it seems like it's really going fast.

It's a long process; it should take about a year, but I knew that going in. It's all part of the process, and when you're building a custom boat, you should enjoy the process as much as the delivery.
You can buy something right off the shelf or take the time that's necessary to get exactly what you want, so I don't mind the wait. I know the boys are working hard, installing air conditioning, water systems, heads, fuel polishers and whatnot. I just don't know what the heck I'm looking at, but I'm coming up to speed!

I'm about a week or two from finalizing the electronics and am already thinking about what kind of gear I'm going to fill all of my rod holders with. Keep watching for more updates – they should be marrying the salon to the hull soon, so stay tuned for some more pictures!