Today's Business section of the Carteret News-Times contains a story about the custom Jarrett Bay cockpit check-out counters created for two vineyard vines retail locations. Mark Hibbs writes:
Jarrett Bay creates store display for retailer

Keeping true to their New England boating ties, the founding partners, CEOs – and brothers – behind a New England-based apparel retailer commissioned Jarrett Bay Boatworks, based here, to build a scale, custom sportfishing yacht display for their newest store in Palm Beach Gardens, Fla.

Shep and Ian Murray of vineyard vines, the colorful tie and preppy apparel company spelled in lower-case letters, operate 11 free-standing stores in addition to marketing their products through department and specialty stores and online.
Installed recently at The Gardens Mall store opening this month, the Jarrett Bay custom cockpit and tower showcase fixture will serve as the central checkout counter and "the visual reinforcement of the brand's representation of the finer places and things life has to offer," according to the company.

"Given that the Palm Beach area is home to some of the world's most notable custom sportfish builders, I am humbled to have Jarrett Bay as the brand chosen to support the vineyard vines business model and store theme of living the Good Life," said Jarrett Bay CEO Randy Ramsey. "This project worked out so well for both of our companies that we look forward to installing yet another scale sportfish checkout counter display for the next vineyard vines store opening at the Tysons Galleria in McLean, Virginia."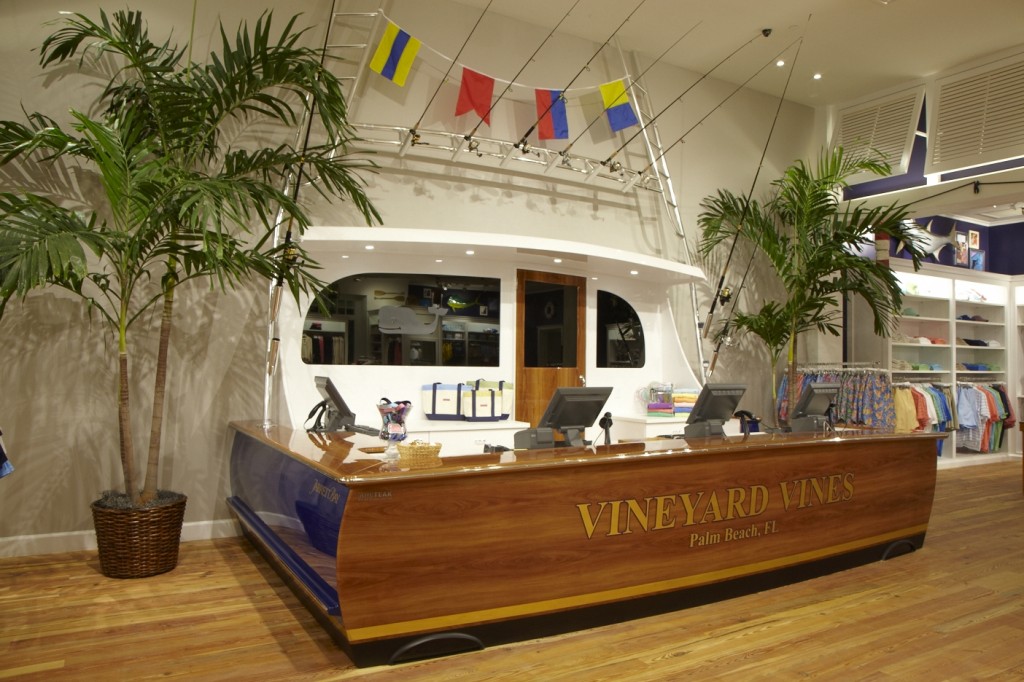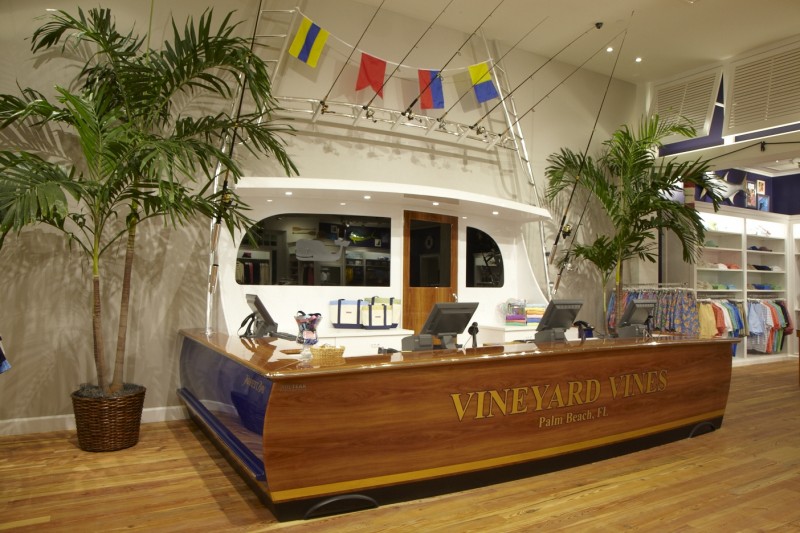 Jarrett Bay Boatworks, a builder of custom sport fishing boats, began in 1986 when Mr. Ramsey led the construction of a single 52-foot charter boat in an old tin shed. Since then, Jarrett Bay has delivered more than 50 custom sportfishing yachts and introduced several other models.

Shep Murray said he was excited to see the first Jarrett Bay signature installment in the store.

"We are so appreciative and excited to have Jarrett Bay not only as a partner, but also help give us an authentic focal point for our stores," he said.