Jarrett Bay is celebrating its 25th anniversary and we want to thank you!
Jarrett Bay Boatworks wants to thank you for your long-standing business and trust in the Jarrett Bay Service Department. From April 1, 2011, to May 27, 2011, Jarrett Bay has teamed up with Interlux Yacht Finishes to roll back pricing on bottom paint. Jarrett Bay and Interlux Yacht Finishes will supply the material for the second coat of paint free of charge.*
Jarrett Bay and Interlux are offering YOU an opportunity to service the bottom paint on your boat for nearly half the price. Now that is rolling back some pricing! Here's to 25 years, everyone!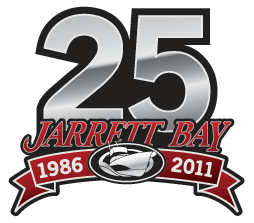 Pay for the first coat of Micron Extra & the second coat is on Jarrett Bay!
Thanks for your business!
Program Details:

Have your boat serviced at Jarrett Bay Boatworks from April 1, 2011, to May 27, 2011, and ask for Interlux Micron Extra® to be applied and the second coat of paint is FREE!
Offer valid only for owners selecting Interlux Micron Extra® antifoulingpaint for both coats on the same boat.
Customer must specify Micron Extra® prior to initial application.
Only valid during program period: 4/1//11 – 5/27/11
No Cash Value
* Promotion covers cost of Micron Extra material on 2nd coat ONLY.