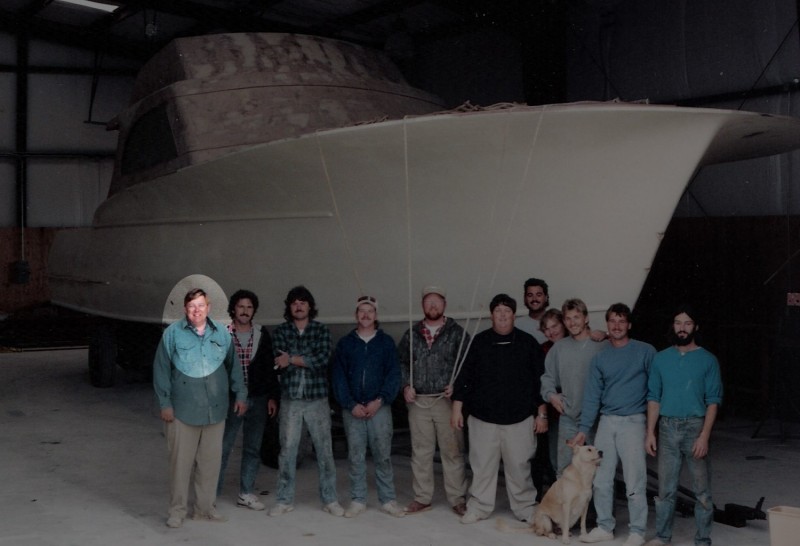 In this 12 part series, Randy Ramsey reflects each month on the most influential people to contribute to Jarrett Bay's success over the last 25 years.
"The difference a day makes" was never as true as the day I met Jim Luxton. It was a cool spring day, and he was at the helm of the "Sea Jade" as we prepared to take a multi-boat charter group out of Harker's Island. The "Sea Jade" was one of the largest in the fleet and Jim was the senior Captain in our group that day. After a short discussion, Jim let me know he planned to fish east of the Cape and suggested I do the same. I, of course, went south. And from that day, a great friendship was born on being able to disagree while at the same time agreeing to merge our passion for boats and fishing to eventually form Jarrett Bay Boatworks.
From the moment of our meeting, Jim and I found we shared many common goals and were both driven to find ways to improve the awareness of the offshore fishery in Carteret County. We formed and operated the Harker's Island Fishing School in 1981 – educating anglers about fishing techniques and improving the boats we used every day. For nine years, we entertained more than 1,500 anglers and carried dozens of sports writers fishing so they could see for themselves all the central coast had to offer.
It became clear to Jim and I that the boats we had were not best suited for the run to the Gulf Stream each day. We both knew we needed faster and larger boats to be successful in this fishery. We had fished with Omie Tillett on his boat "Sportsman" and were impressed by her speed and how well she handled in the ocean. On a cold December day in 1986, we made the commitment to build our first boat, the "Sensation". Jim and I both had worked with Capt. Myron Harris building charter boats, but to say we were prepared to go into business would definitely have been an overstatement.
Looking back on the process of building the first boat that is still running charters 25 years later, it's nice to reflect on how well we complimented each other – Jim had a great eye for detail, a focused vision of the final product, an understanding of the process, and the confidence in what we could achieve. His confidence helped us get through some difficult times. His insight into people and his desire to do things to better everyone involved with a project helped instill the values our company still lives by today. While Jim was here, we launched more than 20 boats – including the first double planked boat and the first cold molded boat for our company, and opened our repair facility.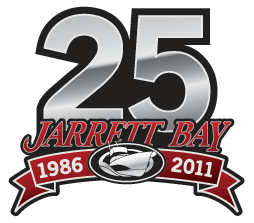 In 1996, after realizing the dream of all that Jarrett Bay came to be, Jim moved to the North Carolina Mountains with his family and followed another dream of going back to school. Since then, he returned to his roots and built several boats, and has been a valued consultant to first time boat builders. He continues to help others achieve their dreams while passing along the knowledge that Omie Tillett, Myron Harris and Ray Davis passed along to us. Jim was vital to building our company's foundation, and his accomplishments are still evident here each day.
See all 25th Anniversary Honorees to date >