With the conclusion of the White Marlin Open, the Jarrett Bay 70\', Ravaganza has officially won the Custom Shootout Series over a field of 33 boats. Chasin & Coral C finished the Series 2nd and 3rd, respectively.
This unique series consists of points accrued from four major tournaments throughout the summer: The Custom Shootout held in the Bahamas, the Sailfish Club of Florida's Gold Cup, the USVI Open "Boy Scout" Blue Marlin Tournament, and the White Marlin Open hosted in Ocean City, Maryland.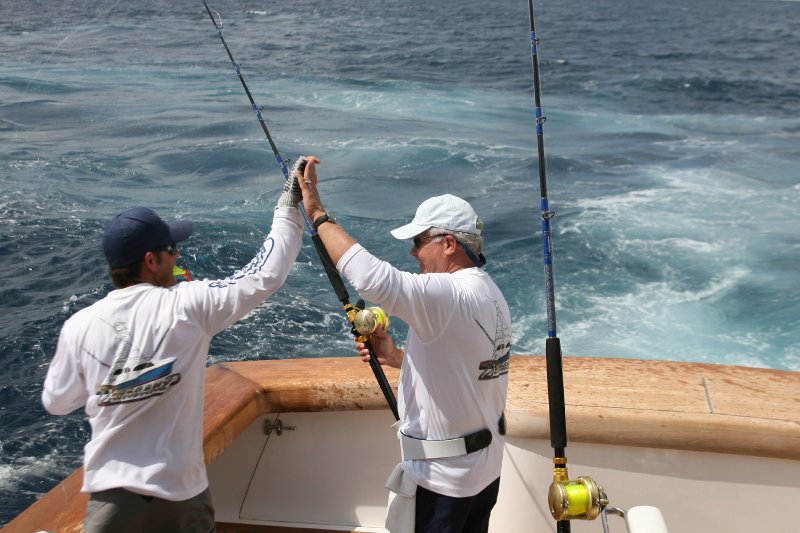 The Custom Shootout itself is an invitation-only billfish tournament, limited to custom-built (non-production) inboard sportfishing boats. Ravaganza took 3rd in the CSO tournament in May, lead by lady angler Tiffany Ramsey's 1 white marlin and 3 sailfish releases. The team also finished 2nd overall in the Sailfish Club of Florida's Gold Cup, and had the 3rd best showing amongst CSO boats at the White Marlin Open. Ravaganza's points for the season were 4,400, over the Spencer Yacht, Chasin's 4,050 2nd place showing and Coral C's 2,250 points in 3rd.
The Ravaganza's competition in 2011 included top teams from Spencer Yachts, Merritt Yachts, Bayliss Boatworks, Jim Smith Boats, Weaver Boatworks, American Custom Yachts & many more of the finest custom boat builders.
Congratulationss to Capt. Dave Fields & the Wall Family, we're so proud to have you representing Jarrett Bay Boatworks in this prestigious series!