The 58′ Jarrett Bay Hull #43 is undergoing a full refit for her new owner, including full hull and bottom paint, new helm, covering boards, and a full tower by Bausch American Towers. More details and photos to come as the project progresses!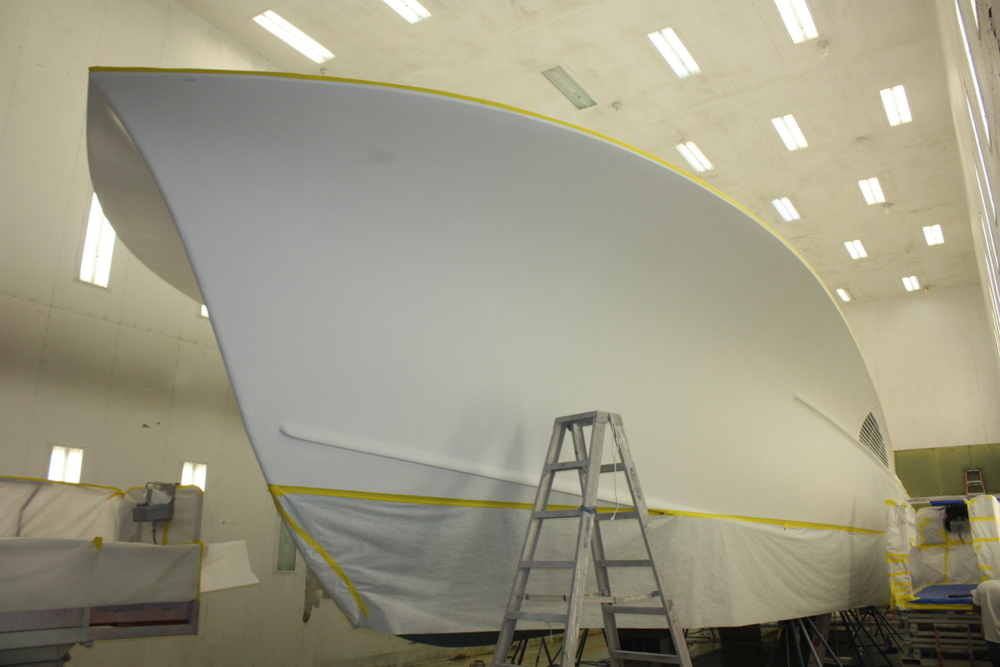 I am just getting back into the office since my visit at Jarrett Bay. Thanks for the great work you have supervised during this process of getting the boat repaired. It has been a pleasure working with such experienced guys and you have definitely spoiled my captain with that kind of work, it's not something you get at every yard. I am really looking forward to getting her to the Gulf and doing some marlin fishing. If you have any spare time during the summer please let me know and we will get you on one of those trips.

Thanks and Merry Christmas,

Keith Richardson
Jarrett Bay Hull #43 – Whoo Dat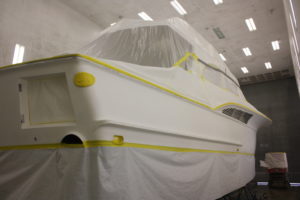 Update: 1/5/12
Jarrett Bay's 43rd installment, originally "Bench Mark," is now proudly owned by Keith Richardson – a Louisiana native who has appropriately renamed her "Whoo Dat" referencing his die-hard New Orleans Saints fandom.
Before heading to her new home in Louisiana, "Whoo Dat" will be dressed out in a new coat of Alexseal, along with a new helm pod station, covering boards, basic engine room maintenance, some fiber glass touch-ups, and a beautiful new tower from our friends at Bausch American.
It's always a privilege to see our boats return for a little love, and to share the experience with a proud, new Jarrett Bay owner. Welcome to the Family Keith!
Stay tuned for more updates on her refit.
Update: 2/1/12
Tate,

Thanks for all of your help. Jarrett Bay is an outstanding yard and provides quality craftsmanship. It has been a pleasure working with you on this project. You can plan on me coming back soon, probably for a mezzanine upgrade. I am looking forward to making a name for custom Jarrett Bay fleet in the Gulf of Mexico.

Thanks again for all of your assistance,

Keith Richardson
Tate,
I am just getting back home from taking the new Whoo Dat down to Stuart. The boat performed flawlessly! I never would have thought that we wouldn't lose any speed after adding a full tower but we were making 34 knots at 1850 RPMs! On top of the speed, the way she handles and takes the seas is impressive to say the least. One of the driest boats I've ever been on as well. She is truly a work of art in every aspect.

I just wanted to let you know how pleased and impressed we were with your entire operation. From start to finish, everyone I encountered was nothing but polite and helpful. It was very refreshing working with a boat yard that went above and beyond in all aspects. It was very apparent that a great amount pride was taken in every detail of every project that was done to our boat. The projects were finished on schedule, on budget and most importantly the finished product was beyond expectations/satisfaction. Thank you again for everything and I look forward to you coming down to fish with us this summer out of Louisiana.

Thanks Again,
Captain Chris Hood
Here are some shots of the completed refit of the Jarrett Bay 58′ – Whoo Dat