Long-Standing New & Refit Construction Foreman to Manage Company's Overall Business
Jarrett Bay Boatworks, the mid-Atlantic's largest full-service facility, has appointed long-standing new construction and refit foreman Tate Lawrence as the company's Vice President of Operations. Lawrence will oversee all 100+ Jarrett Bay personnel and daily business operations at the 175-acre Jarrett Bay Marine Park.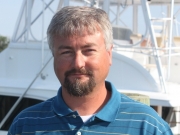 Lawrence joined the Jarrett Bay family in 1999 while the company was in the process of building Hull 30. Today, with more than 85 custom & semi-production hulls on the water, and an internationally recognized, full-service boatyard keeping the marine industry buzzing, Lawrence has proven to be an effective hands-on manager, ensuring success in all facets of business.
Jarrett Bay Founder & President, Randy Ramsey commented, "Tate's successful background at Jarrett Bay, along with an innate understanding of the quality products we build and service, helped foster a solid foundation for him to now assume a leadership role at Jarrett Bay. Tate has earned the utmost in respect from fellow Jarrett Bay employees and customers alike, and I am confident that he will continue our legacy of building superior custom sportfish products, and servicing all others with excellent aptitude."