Boat Name: Water's Edge
Builder: Hatteras Yachts
Size: 60' Convertible
Year Built: 2005
Hailing Port: Mt. Pleasant, SC
Project Timeline: Approximately 1 month
The Water's Edge finds herself up on the hard, at the Jarrett Bay Service yard this summer, with a myriad of internal and external repairs and upgrades.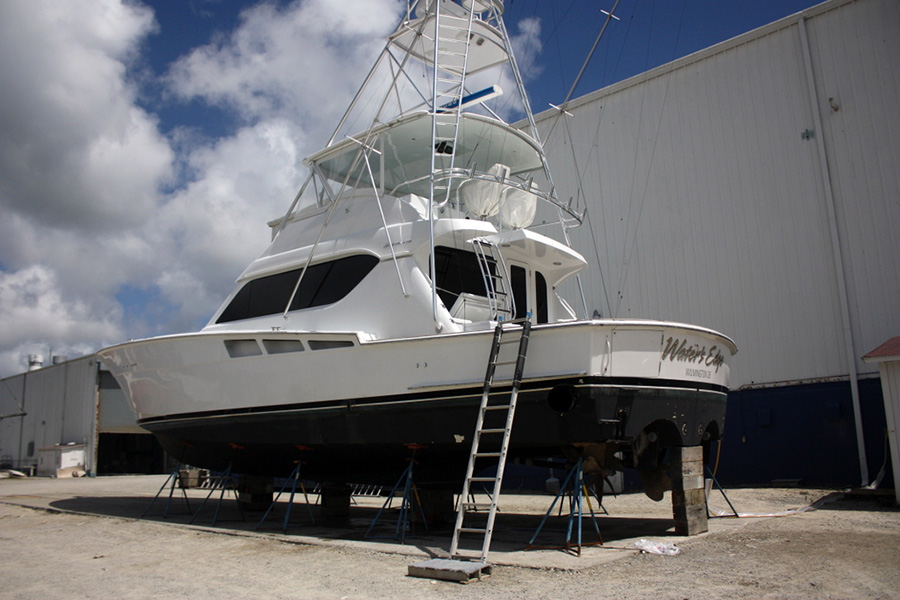 he 2005, 60' Hatteras Yacht hails from Mt. Pleasant, SC near the Charleston Harbor, where she is a full-time charter vessel.
While under the watch of Jarrett Bay's Service Project Manager and Hatteras specialist, Jim McCarley, the Water's Edge will undergo work both "under the hood" and some exterior repairs, modifications and upgrades.
The engine room will receive some attention as we will begin with a thorough cleaning and inspection to detect any unknown items that may be in need of attention. If everything checks out, we'll proceed with recycling the old batteries, rebuilding the battery shelves, and replacing with new batteries. While below deck, we'll also replace the oil cooler for the steering mechanism, and inspect stations in the lazzarette.
On the top side, we'll begin with replacing all hardware on exterior cabinets and doors in the bridge (including console doors and teaser hatches) and in the cockpit. We'll also replace air pressured gaskets in the drink and bait coolers. With the expertise of Jarrett Bay's in-house metal fabrication team, we'll design and build new aluminum plate backings for gunwale mounted rod holders. Lastly, we'll closely review the bottom of the vessel to make any necessary fiberglass repairs before finishing with a fresh coat of Seahawk bottom paint.
She'll splash towards the end of July and return to her fish-filled charter grounds. Thanks for trusting Jarrett Bay with this South Carolina gem. We'll do you proud!