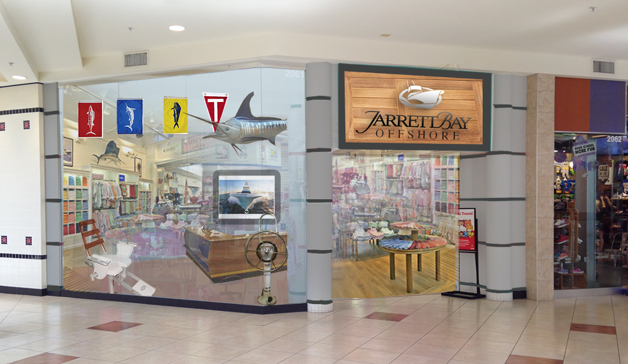 Jarrett Bay Branded Merchandise On Deck for the Masses in Raleigh, NC Area
Just in time for the holidays, Jarrett Bay Boatworks announces the opening of the Jarrett Bay Offshore "pop-up" store at one of the largest malls in the Southeastern United States, and Raleigh North Carolina's largest enclosed mall. On Friday, October 3rd, Jarrett Bay branded merchandise will be available for mass consumption at Crabtree Valley Mall. Comprised of more than 220 stores and restaurants, Crabtree serves hundreds of thousands of shoppers annually from Central and Eastern North Carolina, including close regional demand generators such as North Carolina State University, Raleigh-Durham International Airport and the Research Triangle Park.
Based on substantial sales figures from the company's two brick and mortar storefronts, as well as online purchases attributed to shoppers from North Carolina's Raleigh-Triangle region, Jarrett Bay made the decision to test what more the market might bear with a temporary retail location here. The pop-up store, conveniently located near the mall's high-traffic food court, will make it even easier for Jarrett Bay fans that frequent this popular holiday shopping destination to find the full line of branded apparel and merchandise. The Jarrett Bay product selection has been exponentially expanded for the added retail venue with gift ideas for everyone this holiday season. Special promotions will be rolling out through Christmas & New Year's, so fans should follow Jarrett Bay on Facebook, Twitter and/or Instagram to stay up on store opening festivities, exclusive discounts and more.
President Randy Ramsey commented, "Even though we'll only be in this location until just after the New Year, I am hopeful that the response will give rise to a year-round Jarrett Bay shopping experience in the Raleigh-area. We are so grateful for our fans' appreciation of all that Jarrett Bay embodies, and are excited to provide them with even more and convenient ways to share our "Carolina Flare™".