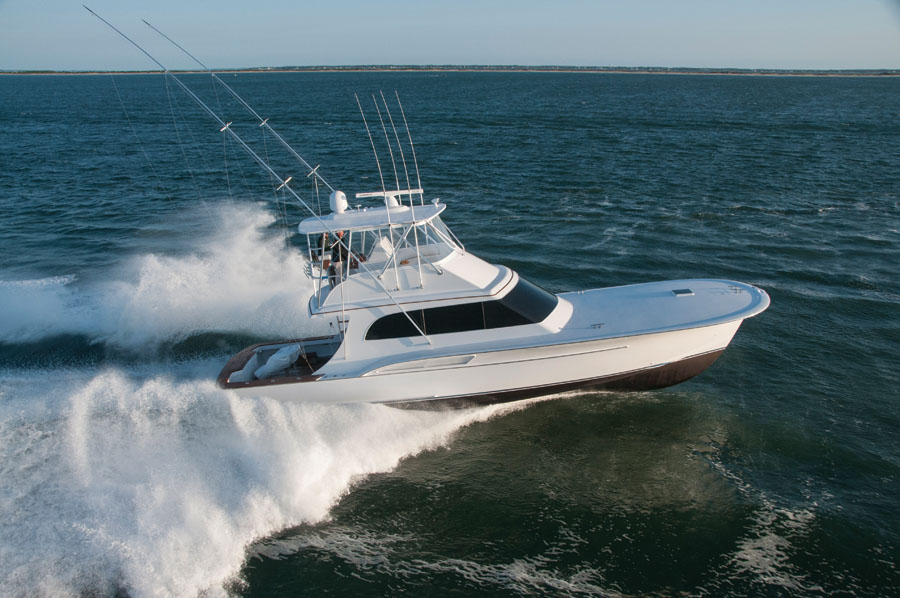 When Jarrett Bay President Randy Ramsey often mentions the "Jarrett Bay family," he is not only referring to the exceptional group of employees, owners and crew that have given rise to the iconic custom sportfish construction and service entity, he is also referring to the very hulls that are the nexus behind it all. After Randy received word that the economic downturn left one Jarrett Bay without a proper home, he swooped in and put her on the hill at Jarrett Bay's 175-acre facility in Beaufort, North Carolina until he formulated what might be next in her future. After passing by her daily while checking in on the many projects found among Jarrett Bay's nine construction & service buildings, deep-water basin, and in the yard, it came to him that it was time to spend more time on a boat of his own. Thus began the major refit of Hull 25, and quite the story to tell.
Originally launched in July, 1999, hull 25 has enjoyed many years plying the waters off the mid-Atlantic to the Caribbean and back. Flying under the highly-respected flags of "Shorter Pie" and "Pole Position" she fished hard and ran with the best of them, and it was now time to return her to glory.
With Randy's vision, his team's award-winning talent and skill, and an overwhelming outpouring of support from Jarrett Bay's industry partners, the dream became a reality. Many might just have given her new teak and a coat of paint, but Randy – with the help of his VP of Operations, Tate Lawrence, opted to do right by this old girl and give her a complete make-over inside and out.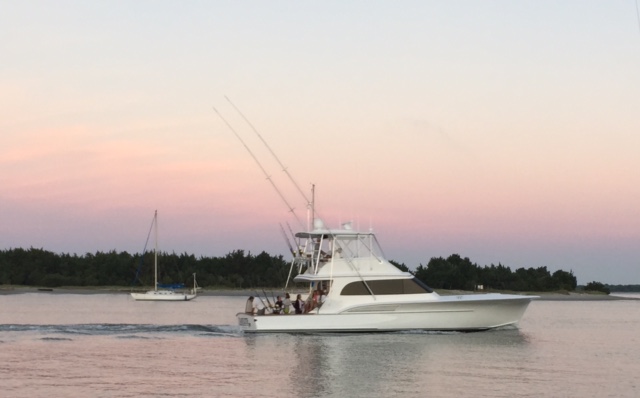 From the moment it was decided hull 25 would be for Randy's personal use, what to rename her was a constant thought in his mind and a fun debate among his closest friends. His first Jarrett Bay, delivered in 1986, is still charter-fishing today bearing her original name "Sensation" – so that was taken. Then there were the many spins on the 25 factor and one of Randy's favorite pastimes NASCAR, so "Quarter Turn" was a top consideration. "Cab Ride" in honor of Randy's dad Cabell Ramsey pulled at everyone's heart strings, as well as "Sportsman" to throw a nod to the godfather of custom Carolina sportfish construction, Omie Tillett. With a large contingency hoping she will stir the pot on the tournament circuit, "Tempest" was a popular option as well. Ultimately though, Randy took it back to what really started it all — "Starflite" — the old charter boat he ran that was in desperate need of replacement, and served as the impetus for building "Sensation" and ultimately Jarrett Bay; what is today one of the finest custom sportfish brands in the world.
Even after being run hard all of those years, "Starflite" wasn't in need of any major structural modifications. This is due of course to the rugged and superior construction that each Jarrett Bay is built with. "Starflite" was however in need of modifications to bring her up to speed with the newest generation of fellow battlewagons. Most notably, thanks to Jarrett Bay's friends at Gregory Poole Caterpillar, she was slated to receive the first pair of prototype C12.9 engines in North America. Rated at 1000 hp each and monitored by GPLink, these motors leave unpredictability in the dust with their electromagnetic clutch. The resulting size to weight ratio makes "Starflite" a leader out of the shoot with her impressive power density.
Starting from the inside out, Jarrett Bay's skilled craftsmen completely overhauled the layout of the saloon and galley, updated her kitchenette with a convection oven and cook top, and added a new L-shaped couch to accommodate lift-seat capacity for additional tackle and storage needs. Interior appointments are modest yet modern thanks to the keen eye of Beth Reid with Crystal Coast Interiors. Long-standing partner Atlantic Veneer helped with her new teak accents and soles within the interior, Custom Yacht Interiors and Design installed a new headliner throughout, and IC Granite's generosity bestowed "Starflite" with striking new granite countertops in the saloon and galley.
As you travel out the saloon door into the cockpit one is struck with the sight of the expertly crafted teak-soled mezzanine the Jarrett Bay team designed and installed. Along with this refit, she received new rod holders, outriggers, and a hardtop with a half-tower crafted by Jarrett Bay's in-house metal fabrication team. Capping off the business end is a beautiful Release Marine fighting chair. Going up the new teak-treaded ladder to the bridge, Hull 25 boasts a new helm chair, the latest Garmin electronics, and new bi-color Imtra bridge lights – part of a generous package that also included Imtra interior, exterior & cockpit lights, switching & covers. Combined with the Aqualuma underwater lights along her transom, "Starflite" at night is indeed a sight to behold. To complete the package, "Starflite" received expertly applied Alexseal topside and Sea Hawk bottom paint jobs from affiliate Royale Yacht Coatings. Additional industry partners who helped this restoration and refit become a reality include Airmar Transducers, Bluewater Supply, Endurance/CoPoxy, Offshore Marine, and Capt. Shop.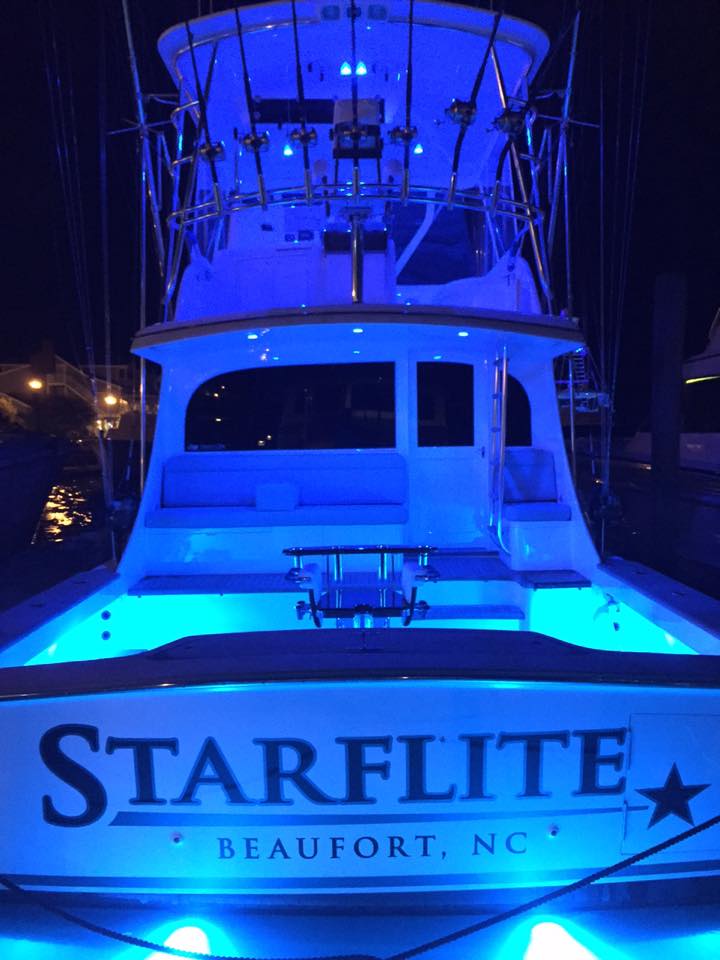 As her suiting name would suggest, the refit of "Starflite" is not only the story of paying homage to those who helped build her in 1999. By placing her back in the stratos of the world's top sportfish boats, she embodies the passion that the entire Jarrett Bay family has for one of their own, and showcases their collective strengths and capabilities like no other.