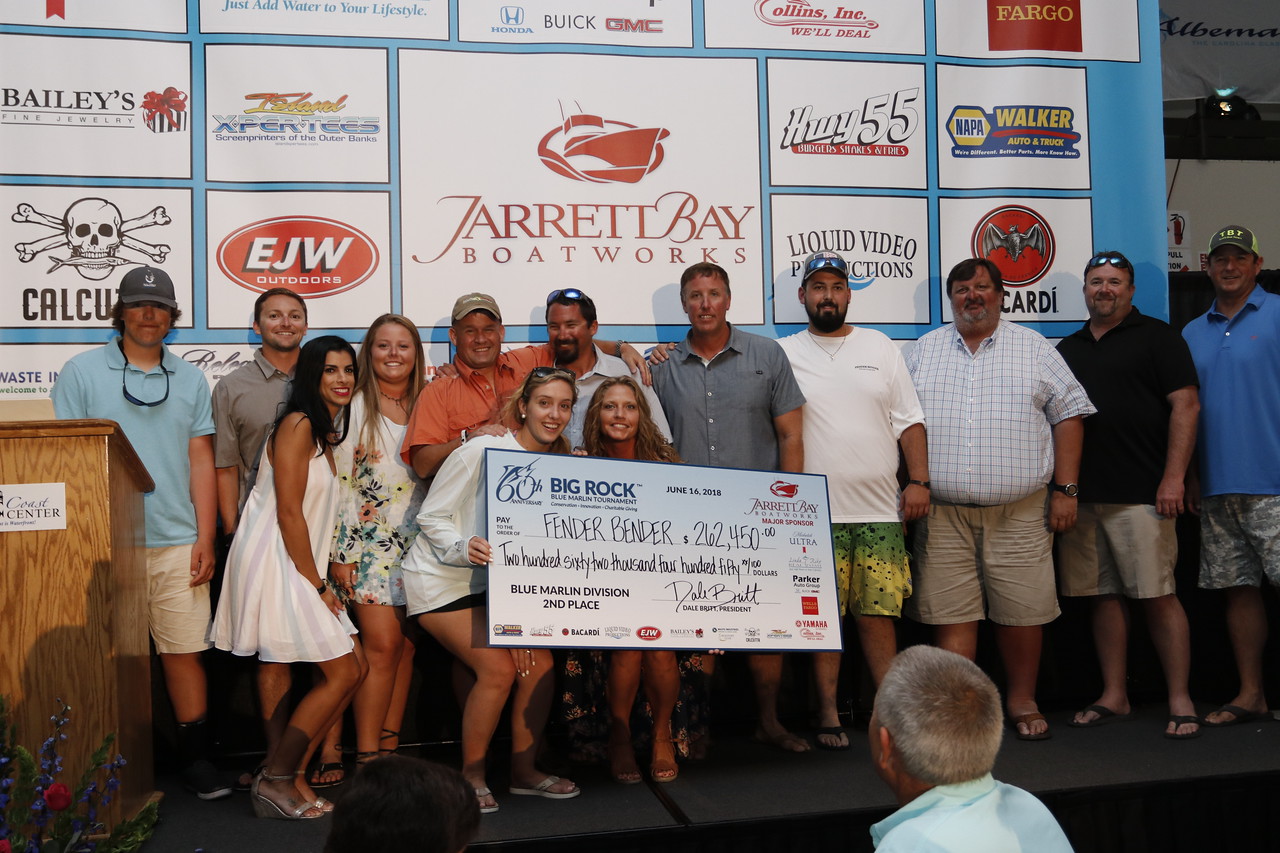 The Final Hours of Big Rock Shook the Leaderboard
The Big Rock Blue Marlin Tournament is known for non-stop action, and the 60th year of this iconic tournament did not disappoint. Rough conditions and slow fishing early in the week dictated lay days for many of the 183 teams fishing the 6-day tournament. One or two blue marlin were weighed the first few days, but no one could predict how wild the final day would be at the scales!
Lucky Number Seven
Saturday is commonly a quieter day for the tournament as most teams are typically excited to get out there early in the week. But the 2018 tournament saw 122 boats out of 183 fishing the final day. Hook-ups and releases were numerous. Only 3 hours after 'Lines In' was called by Randy Ramsey, the first blue marlin was boated. Then another, and another, and another. By 1 pm it was reported that 6 blue marlins had been boated and the first would be arriving at Big Rock Landing shortly.
Jarrett Bay hull 40, Fender Bender called in their 'Hook Up' at 1:48 pm, just 12 minutes before the 2pm 'Lines Out.' Meanwhile, back at Big Rock Landing, the leaderboard was being re-evaluated as fish were being brought to the scales one after another. Then at 3pm, the call came in over the radio that thousands of listeners had been anticipating. Fender Bender had boated their fish and was headed to the scales. This was the seventh and last blue marlin boated and weighed on the final day of the tournament.
Fender Bender backed into the scales and the tournament crew went to work measuring the length of the fish and prepping it for hoisting from the cockpit. Silence from the crowd was followed by an outburst of cheers and applause as the weigh-master reported '514.3 pounds'. This blue marlin catapulted the Fender Bender team to second place in the tournament with a $262,450 cash prize.
Although the Big Rock Blue Marlin Tournament awards cash prizes for the heaviest blue marlin brought to the scales, the tournament mission is still focused on conservation. Evidenced by the many release categories where teams place for cash prizes ranging from $5,000 to over $100,000, based on points for releasing blue and white marlin along with swordfish and spearfish. Historically, the tournament maintains a release average of over 90%, and a qualifying blue marlin must meet both length and weight requirements which are established well-above the state standards.