300-Ton Marine Travelift To Be Purchased with Funding to Foster Economic Growth
The U.S. Department of Transportation's Maritime Administration (MARAD) has awarded $1 Million to Jarrett Bay Boatworks to support the purchase of a 300-ton Marine Travelift. A first for a North Carolina shipyard, this grant funding is part of $20 million being presented to 29 U.S. maritime operations from the Small Shipyard Grant program to support capital improvements, foster increased efficiency and economic growth. "These grants are an investment in our country's small shipyards and will help create good jobs for America's workers," said U.S. Transportation Secretary Elaine L. Chao.
The 300-ton Travelift will be the only one found on the south-central Atlantic seaboard, extending Jarrett Bay's ability to haul & service some of the heaviest vessels on the water – from military craft, barges & ferries to megayachts, fishing & sailing boats with significant beams, weight & appendages that smaller lifts cannot accommodate. Jarrett Bay management anticipates the expanded capacity with a 300-ton lift will require hiring a crew of up to 25 new employees.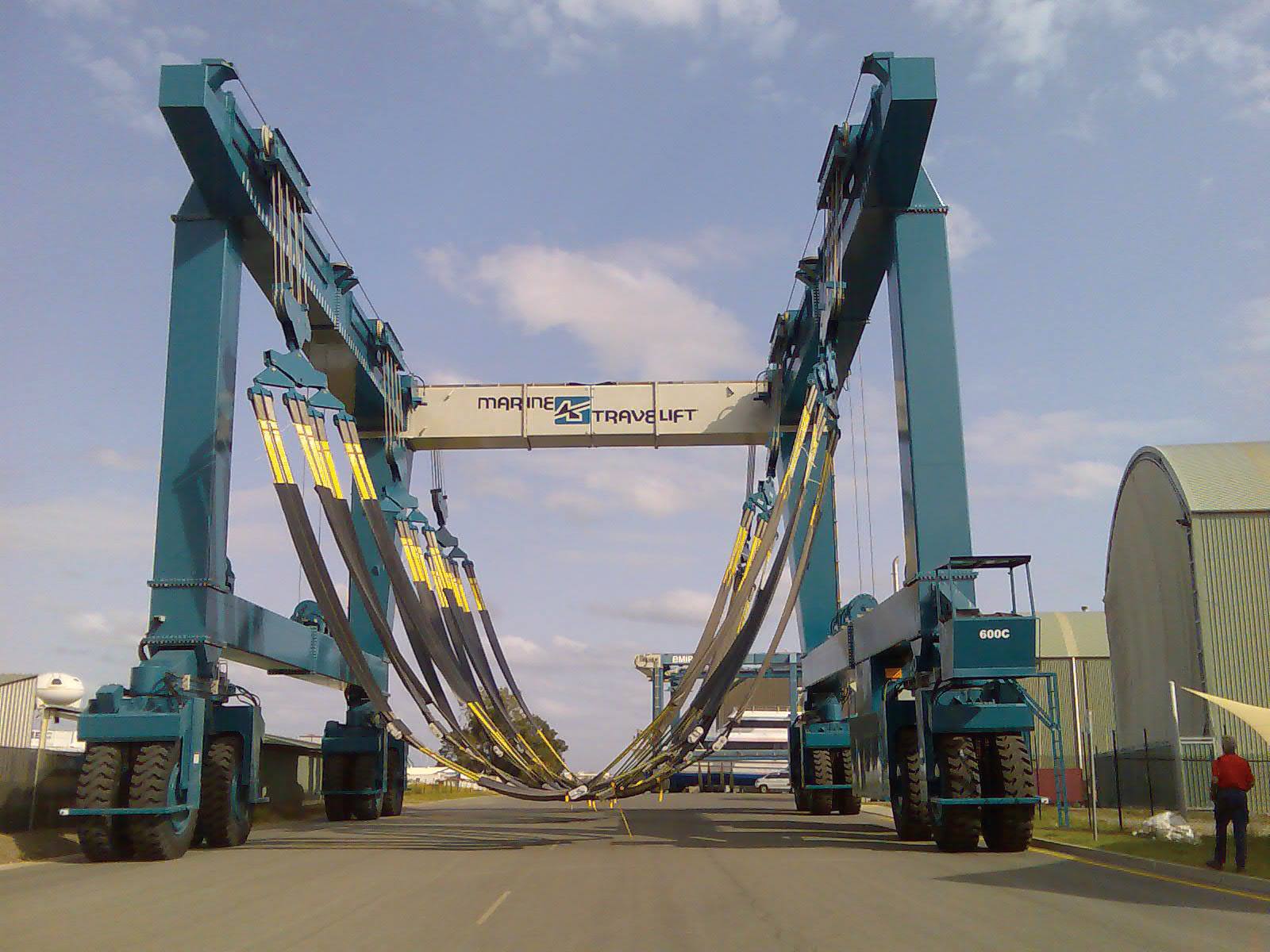 Jarrett Bay President Randy Ramsey commented, "With education being a personal passion of mine, I'm excited that this expansion will also enable our existing and new workforce to receive industry-specific training and certification through our local Carteret Community College – identified as a future Domestic Maritime Center of Excellence by MARAD." He continued, "We are ever-appreciative for the support of North Carolina Senators Richard Burr, Thom Tillis, and Congressman Walter Jones in securing this investment for our state's maritime business; And to the DOT for empowering small shipyards like ours to enhance the significant role we play in the country's maritime sector – contributing to our nation's economy, supporting national security, maintaining critical infrastructure, and creating employment opportunities for working families in small communities, like ours here in Coastal North Carolina."
Jarrett Bay expects the new 300-ton lift to be in operation in 2019 and is looking to have the new workforce in place and trained as soon as possible. Applications to join the Jarrett Bay family, many of whom have been working together for over 30 years, are now being accepted online at https://www.jarrettbay.com/employment/
About MARAD
Since 2008, MARAD's Small Shipyard Grant Program has awarded over $183 million to more than 180 small shipyards. These grants help fund the upgrades and expansions to empower this critical industry, allowing them to compete more effectively in a rapidly changing global marketplace. By providing the capital that will let shipyards increase their repair and production footprints these grants are helping to create more jobs throughout the country. America's shipyards support more than 400,000 jobs and contribute more than $37 billion in Gross Domestic Product (GDP) to the nation's economy. Small shipyards vary in size but have under 1,200 production employees to be eligible for grant awards.