Congratulations to Weldor's Ark (Hull 26) for winning first place at the 2018 White Marlin Open in Ocean City, Maryland. There's no contesting the claim of White Marlin Open to be the richest billfish tournament in the world. The Jarrett Bay 55, Weldor's Ark shook up the leaderboard with a non-gaffed 83-pound white marlin and took home an astounding $2.58 million in prize money!
The team's 83-pound white marlin brought to the scales in the final hours of the last day of the tournament was a tie with a fish weighed the day before. What ultimately determined the winner, pursuant to tournament guidelines is the use of a gaff in boating the fish. The first team who weighed an 83-pound white marlin gaffed their fish, the Weldor's Ark team did not. The official winner of the tournament wasn't announced until the awards banquet the following day.
Weldor's Ark angler Pascual Jimenez said, "It's really unbelievable, you don't know anything until it becomes official. Don't count your chickens before they hatch. I'm excited — I never thought I'd be in first place."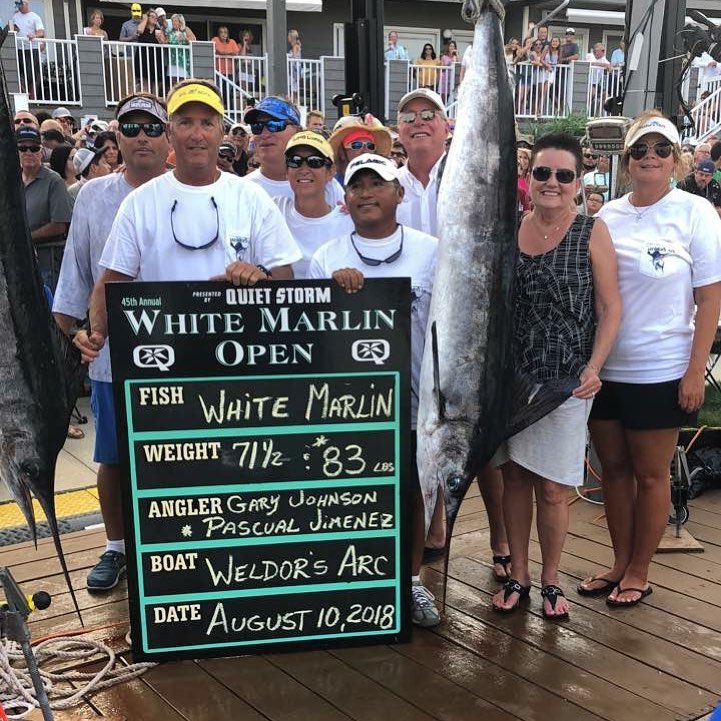 The 2018 White Marlin Open broke two world records: first was the announcement of a total purse of $5.45 million, the second was the massive $2,584,260 check awarded to the Weldor's Ark team for their tournament winning fish.