The 67′ Privateer is Built to Fish, Play & Entertain with a Unique Trunk Cabin Design that Immerses the Interior in Natural Light
Jarrett Bay Boatworks announces the launch of custom hull 63, the 67′ Sport Yacht Privateer. This newest build takes a unique direction in Jarrett Bay's mission of offering owners a truly custom, one-of-a-kind yacht. Her throwback trunk cabin, integrated swim platform and distinctive Carolina Flare™ are sure to draw big crowds during her debut at the 2019 Palm Beach International Boat Show on Ramp 5, Slip 571.
This 67′ Sport Yacht was purpose-built for her owner to enjoy everything on the water; from fishing and cruising to launching kayaks and paddleboards for island exploration. Her hardtop holds true to the retro theme with a custom mast that houses two Garmin radar arrays and the 24" KVH Satellite TV antenna along with other aerials. A new twist is the two built-in hardtop racks offering out-of-the-way storage for up to 14' paddleboards.
With a fully staffed in-house engineering and design team, Jarrett Bay is able to take the goal of building a truly custom yacht to a whole new level. In the case of hull 63, the team literally "raised the roof" on design, styling and interior space. The Privateer's exceptionally tall owner wanted an open feel and abundant amounts of headroom throughout, so the trunk cabin design helped Jarrett Bay deliver on this special request. Notable headroom includes the engine room at 6′ 6″, the salon and helm area at 6′ 9″ and the lower level including galley and companionway offer an astonishing 7' 4″ of vertical clearance.
The integrated swim platform is another feature that sets this Carolina boat apart from her class; both in style and utility. The swim platform offers the owner and guests an easy launch of their personal watercraft, including kayaks and paddleboards. The full walk-through transom door provides for ease of travel from the platform to the main cockpit for guests, as well as the day's catch. And at 136 square feet, the cockpit was built for fighting fish as much as for taking the entire family on a scenic island hop. Familiar features include an ice maker and refrigerator/freezer units hidden in the mezzanine seating and steps, accompanied by a lift up lid compartment on the starboard side with an electric grill mounted within. Another unique feature in the cockpit is a clever pop-up console on the port side that features Cat Three60® Precision Controls and a 12″ Garmin display.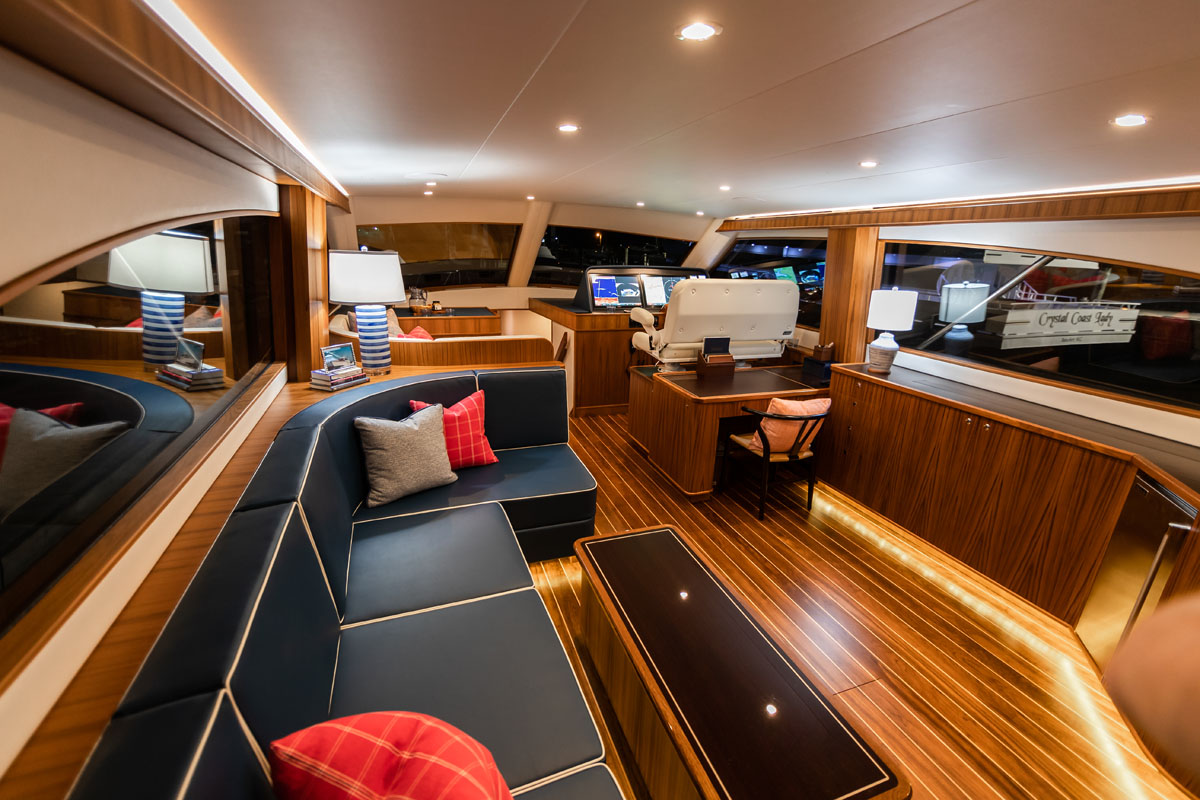 The Privateer's interior spaces are not only spacious but also comfortably well-appointed. Guests enter the salon from the raised mezzanine through a set of striking solid teak, double electric sliding doors, with a luxurious high-gloss finish. The interior warmly welcomes guests with its wide-plank vertical grain, satin-finish teak floors, naturally illuminated by the near-360 degrees of glass windows allowing for plenty of light and unobstructed views.
Down forward, the theme of satin teak and natural light continue thanks to Jarrett Bay's in-house craftsmen and furniture makers, along with the trunk cabin's expansive windows to both port and starboard. Capping off the unassuming luxury of the interior are the natural light maple flooring below deck, and contrasting dark wood counters found in the salon, master v-berth, on the helm station's desktop, and the Release Marine convertible-dinette & cocktail tables in the salon & galley – all within towering spaces rarely found on a vessel of this size.
The headroom theme is also a recurring one that doesn't stop with the engine room. Offering six and a half feet of vertical clearance is just one of the impressive dimensions of this space. Hull 63's equipment and engine area was laid out to also offer full access to all sides of her twin Caterpillar C18 ACERT engines for ease of maintenance. Other systems like her Cat 27kW generators and fuel filters have also been positioned for quick service. These smaller displacement marine engines from Cat boast 1,136 horsepower each, providing enough power to push the Privateer adeptly through heavy water, while maintaining commendable efficiency.
This 67-footer utilized high-tech construction techniques to decrease the dry weight and improve operating efficiency. Lightweight core materials were used in major components including the cabin sides, cabin top and trunk cabin. These core materials are then sandwiched with E-glass and vacuum-infused for a high strength to weight ratio. Focusing on weight savings in large components that are placed higher up in the boat also helped to lower the overall center of gravity, notably improving stability and handling.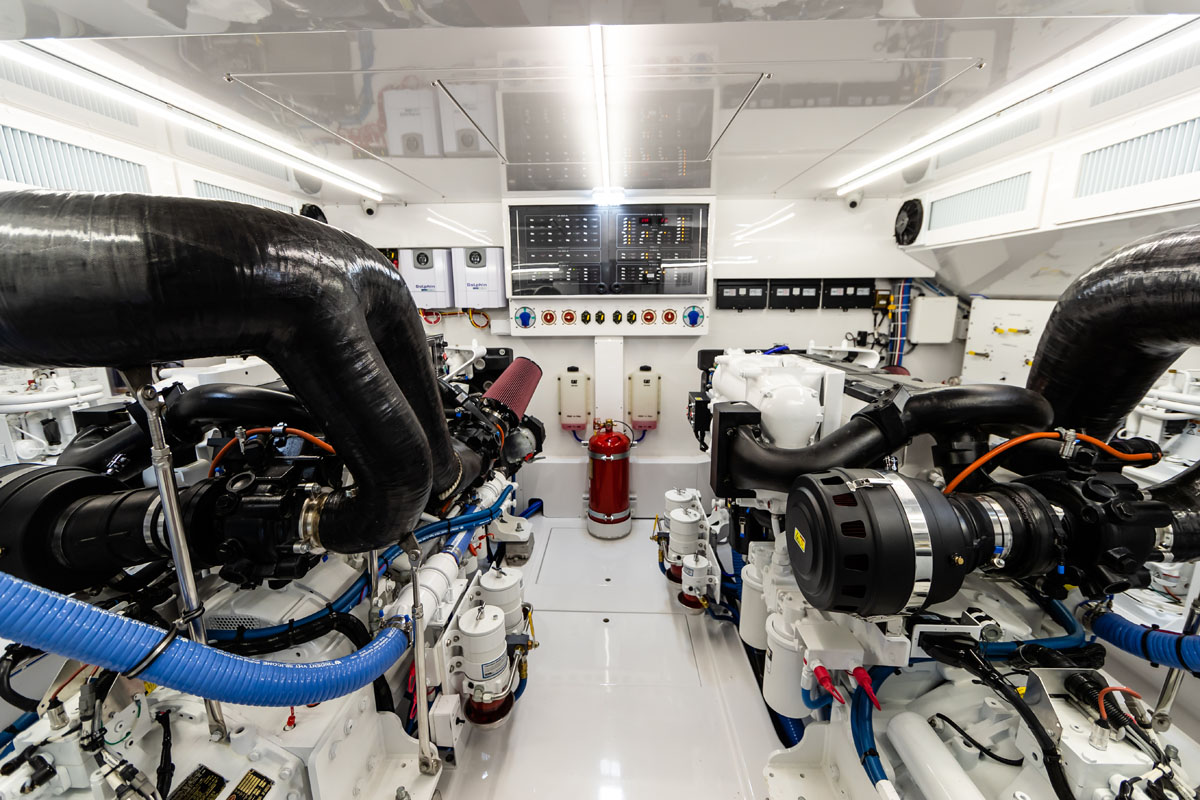 "Rendering dreams into reality through custom construction is something we take great pride in here at Jarrett Bay," explains Randy Ramsey, owner and President of Jarrett Bay Boatworks. "We have been honored to work with some incredibly passionate and brilliant customers who bring their ideas and challenges to us, and our team never disappoints in delivering a truly custom yacht each time." The delivery of Privateer was another proud moment for the entire Jarrett Bay family – a unique and purpose-built boat, which still pays homage to her Carolina roots in style, ride and craftsmanship.
Specs
Length

67' 3"

Beam

18' 2"

Draft

4' 9"

Water Line

60' 8"

Cockpit Area (sq. ft.)

136

Dry Weight (lbs.)

72,000

Gross Weight (lbs.)

84,000

Fuel Capacity (gal.)

1,320

Water Capacity (gal.)

200

Holding Tanks (gal.)

150
Power
Engine(s)

Cat

Model

C18 ACERT

Horsepower

1,136 ea.

Stabilization

Seakeeper 16

Genset

Cat

Model

C2.2T

Kilowatts

27
Performance
Cruise Speed (kts.)

26

Cruise RPM

2000

Cruise Fuel Burn (gph)

90

WOT Speed (kts.)

32

WOT RPM

2320

WOT Fuel Burn (gph)

120