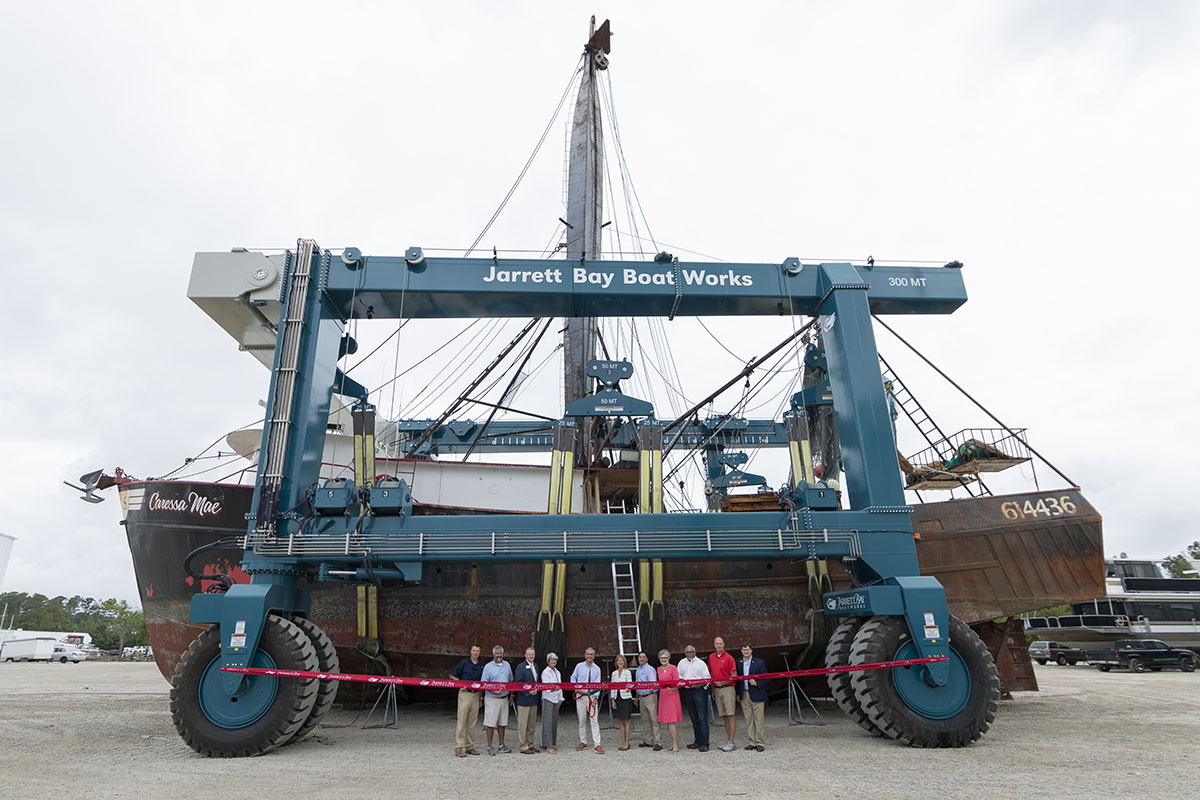 Industry Leaders, Senate Representatives & MARAD Officials Celebrate a new Economic Growth Engine for the Crystal Coast
Jarrett Bay Boatworks management and team members hosted a ribbon cutting ceremony for all who aided in the purchase and operation of their new 300T Marine Travelift. Jarrett Bay Marine Park tenants and employees were joined by representatives from the offices of Senator Thom Tillis & Senator Richard Burr, as well as Department of Transportation's Maritime Administration (MARAD) and Carteret Community College along with county government & public administration officials for this celebration.
A grant from MARAD helped to support the purchase of the 300-ton Marine Travelift which is a first for a North Carolina shipyard. This new equipment was recently put into service and is already fostering economic growth for the Coastal Carolina region. Benefits of this new lift include the direct hiring of over 20 new employees at Jarrett Bay in addition to new employment opportunities and business growth for the many nearby ancillary businesses such as engine and component operations. Furthermore, the surrounding community benefits from increased activity and tourism for non-endemics, such as hotels, restaurants and shops.
Obtaining the MARAD grant was an all-hands-on-deck endeavor as Ed Stack, Jarrett Bay's VP of Administration and Development sought the professional advice of Dr. John Hauser, President of Carteret Community College (CCC) along with Tracy Mancini, the Vice President of Education at CCC. Jarrett Bay and CCC continue to work closely in a number of areas including hiring and training.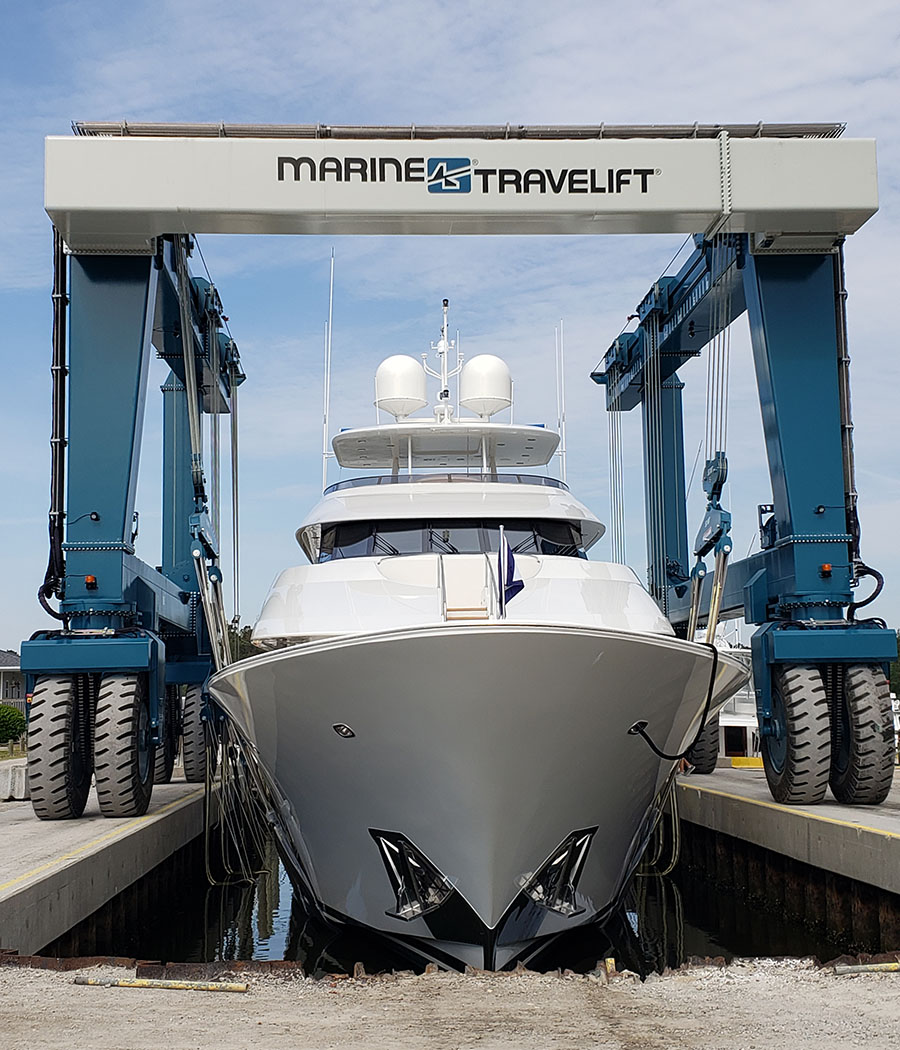 Letters of recommendation and support also came flowing in from large maritime transport outfits, commercial fishing operations and Jarrett Bay Marine Park tenants praising the opportunity for greater lift capacity at the renowned Beaufort yacht service yard. Fleet owners, tug operators and military vessels once turned away unable to be hauled due to their vessel size or forced to siphon fluids and lubricants to meet the previous haulout abilities now enjoy Jarrett Bay's full-service capabilities on the hard, conveniently located on the ICW in coastal North Carolina.
Chris Fulcher, owner of Fulcher's Point Pride Sfd. stated, "I own 11 commercial fishing trawlers and have used Jarrett Bay to lift 2 of my smaller boats. The addition of this 300-ton lift will enable me to use their facility for my entire fleet." Aside from the added weight lifting capabilities, this new Travelift was configured to haul military craft, barges, ferries & sailing boats with significant beams and appendages that other lifts cannot accommodate.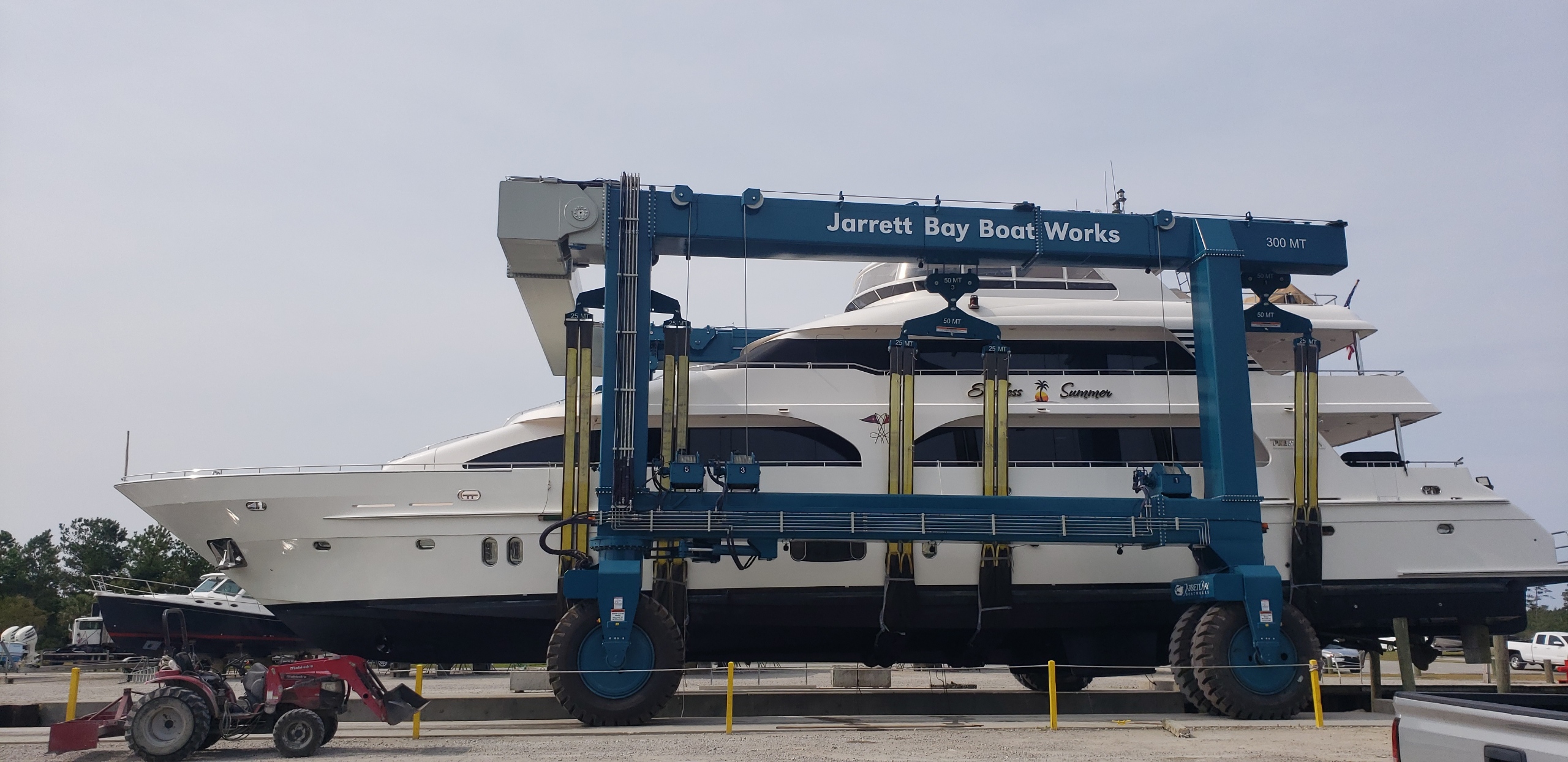 Jarrett Bay's award-winning service yard hauls over 1,000 boats annually from sportfishing boats, motor yachts, and sailboats to commercial trawlers and tugs as well as government research and military vessels. But historically, Jarrett Bay has had to turn down servicing an average of 30 larger vessels each year due to their size. The new 300-ton Travelift will allow these vessels to now have their work done at Jarrett Bay's North Carolina facility. "We view this as a partnership that will help numerous large boats that operate along the Southern Central Atlantic Seaboard to have a convenient place to go when they are in need of service or repair." Stack continues, "No longer will larger vessels be forced to travel to Norfolk, Virginia or South Florida."
Jarrett Bay would like to wish a special thanks to the Congressional Delegation, Senator Burr, Senator Tillis, and the late Congressman Jones for supporting their efforts. Thank you is also in order for Carteret Community College along with David Heller and Todd Hiller from the USDOT Maritime Administration, plus local county and city council members and commissioners. The future is looking bright and prosperous for Jarrett Bay's Marine Park and the surrounding communities of Carteret County and beyond.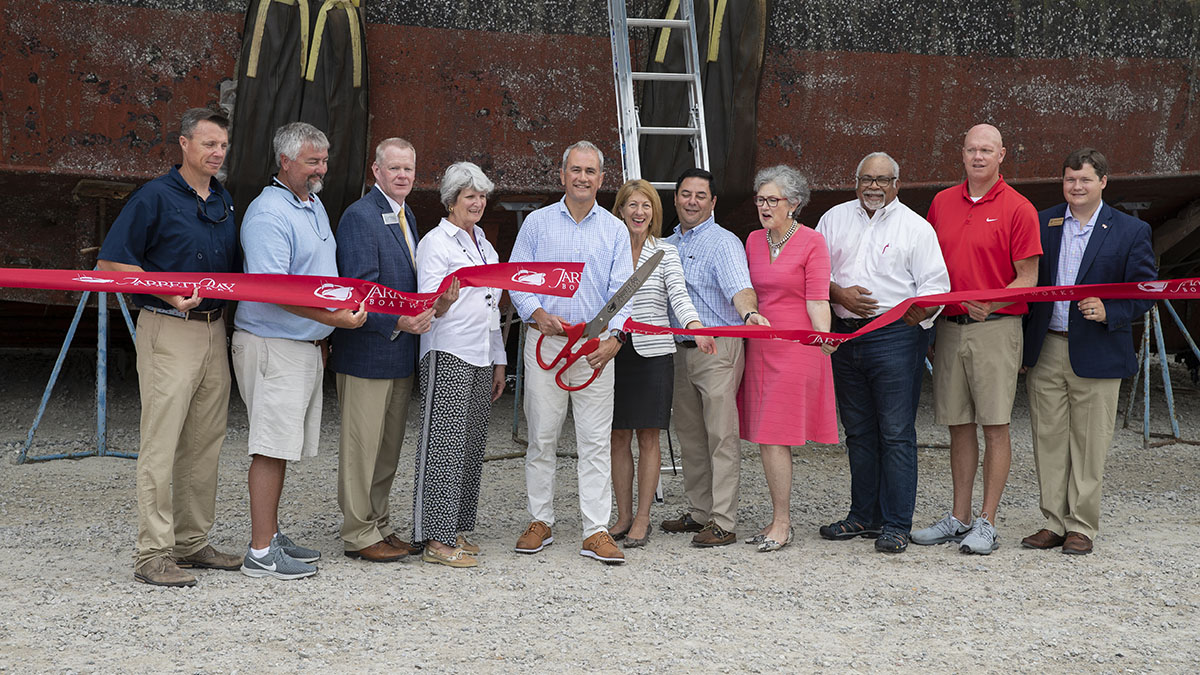 Letters of Recommendation and Support
I own eleven Commercial Fishing Trawlers and have used Jarrett Bay at times to lift two of my smaller boats. The addition of their new 300-ton lift will enable me to use their facility for my entire fleet. This new lift will definitely be an asset and provides the option of performing needed work on my fleet locally, instead of having to use a boatyard in Alabama. This is very significant due to the importance of keeping the revenue in North Carolina. I strongly support Jarrett Bay's new hauling capacity and the economic gains it is sure to bring to the area.
Chris Fulcher, Owner
Fulcher's Point Pride Seafood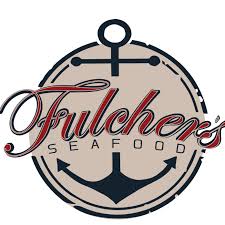 My name is Dawn Powell and my husband and I own Powell Brothers Maintenance. We are a commercial boatyard and have been located in the Jarrett Bay Marine Park for over 11 years. On average we haul 100 boats a year ranging in size from 45′ to 100′ and from 80 tons up to 200 tons. We have to turn away at least 20 boats a year because they are too heavy, or worse, we have to take up time and incur larger expenses attempting haul outs and derigging or transferring fuel and water in an effort to lighten up these vessels. Our business will improve drastically with the addition of Jarrett Bay's 300-ton lift, as all of our haulout services are provided solely by Jarrett Bay Boatworks.
Joseph & Dawn Powell, Owners
Powell Brothers Maintenance
We are a 100+-year-old fourth generation family owned tug and barge company that operates 12 tug boats and 60+ barges along the Atlantic Intracoastal Waterway. Jarrett Bay Boatworks' facility is conveniently located along one of our frequently traveled routes for our largest contract with NUCOR steel. The support and service offered by Jarret Bay have been a tremendous resource to us and our customers. We are heavily reliant on their facility to drydock our vessels for repairs. Their current travel lift was at the maximum capacity for our vessels and in order for them to handle them, we were forced to pump off all the fuel and lubes. This is usually a process that takes several days and can significantly impact our customers who rely on us to keep them supplied with raw materials to run their facilities and produce finished steel. With the increase in hauling capacity, this has allowed Jarrett Bay to lift our vessels at fully-loaded operating conditions which has tremendously cut down on our downtime to get our tugs pulled and repaired. We strongly support their new 300-ton lift and feel it will be a great addition to the local economy. There are very few shipyards along the east coast and the location of Jarret Bay is crucial.
William Johnson, President & CEO
Stevens Towing Company