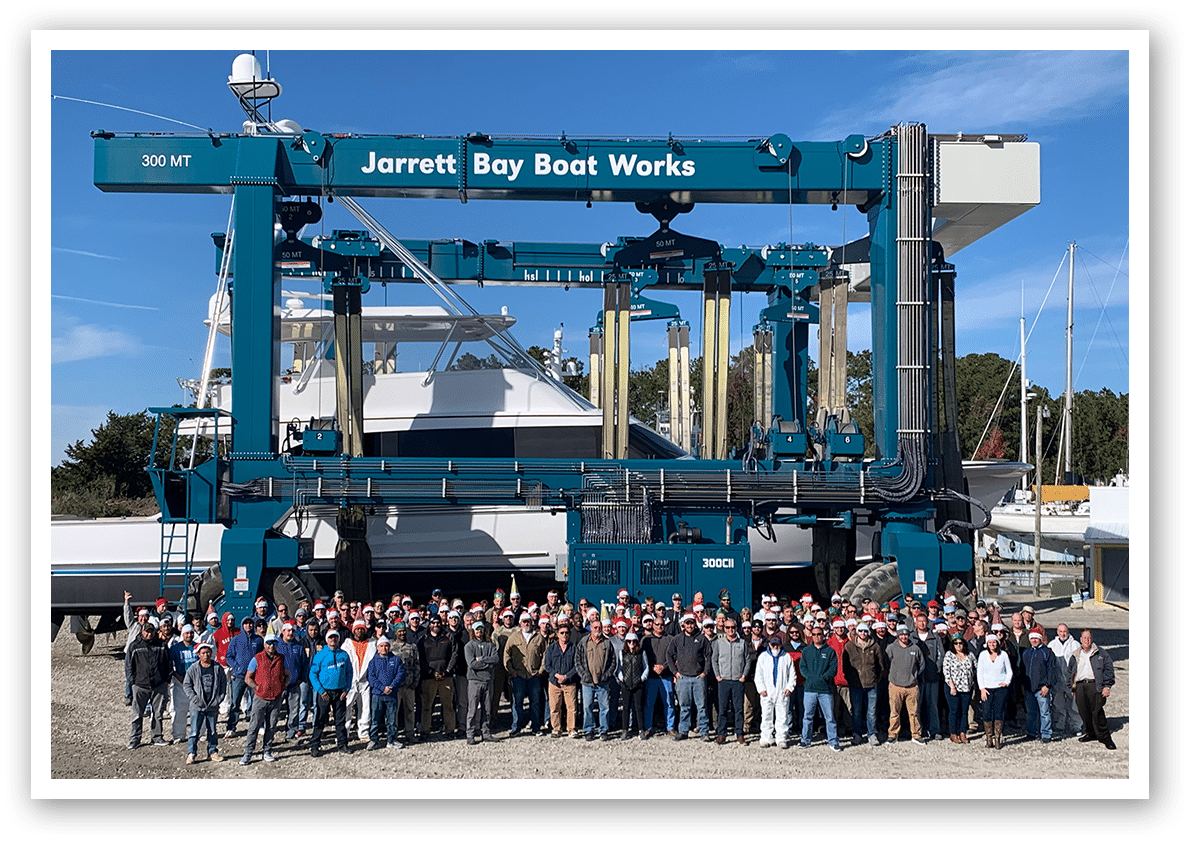 A Holiday Message from Randy
I don't know about you, but I love this time of the year. The sparkle of lights, smells of the season and the anticipation of Christmas makes us all feel like kids again. This is the time of year many of us take time off, visit loved ones and reflect about the past year. For me, the last year has been as challenging, exciting and rewarding as I can ever recall.

Our family of companies has continued to grow as we challenge ourselves each day to deliver a better product and customer experience. In the last year, Jarrett Bay has seen the addition of a new 300 ton Travelift increasing our ability to serve larger yachts, military and commercial craft from the region and beyond. We have acquired more than 20 acres of additional land and are in the process of making basin improvements, installing more electrical power across the service yard for larger vessels and developing additional land for the service yard. We delivered the 67′ "Privateer" and got great feedback when we showed her in the Palm Beach and Fort Lauderdale shows. Currently, we have five new boats under construction from 55′ to 84', and our repair yard is busy with many projects underway from complicated refits to routine services. We have invested in new CNC routers, design software and facility improvements to ensure we have all the tools our team needs. Most importantly though, we continue to invest in our team members. In the past year, we have welcomed nearly 20 new faces, including a retention and recruiting coordinator and a quality assurance professional, additions to our engineering & service teams, and new construction management.

We have enjoyed a lot of positives, but have had challenges as well. This year we lost a great friend and mentor when Jan Boone lost her battle with cancer. There isn't a day that goes by that I don't think of her and how she helped so many of us become better people. A year ago, our community was still working to rebuild from Hurricane Florence. Many of our friends, family and employees had damage and some lost their homes completely. Even today, some still are rebuilding and recovering from the damage that was caused, but it showed us how a community will come together to help their friends and neighbors. You might be thinking that this is old news but more than a year after landfall, that spirit and determination is alive and well. I am encouraged to see the resiliency of our co-workers and our community and the willingness to sacrifice to help others and give back to their community in many ways. When I see people acting selflessly in this manner, I can't help but think about the reason we celebrate Christmas and how we learned this lesson from our savior Jesus Christ when he made the ultimate sacrifice for us.

I hope you will all join me in giving a little bit of yourselves to others as you go through your day whether it is a simple smile, helping a charity, or giving back in some other way. If we do, God's gracious spirit will be living through us all, and Santa will be taking note!