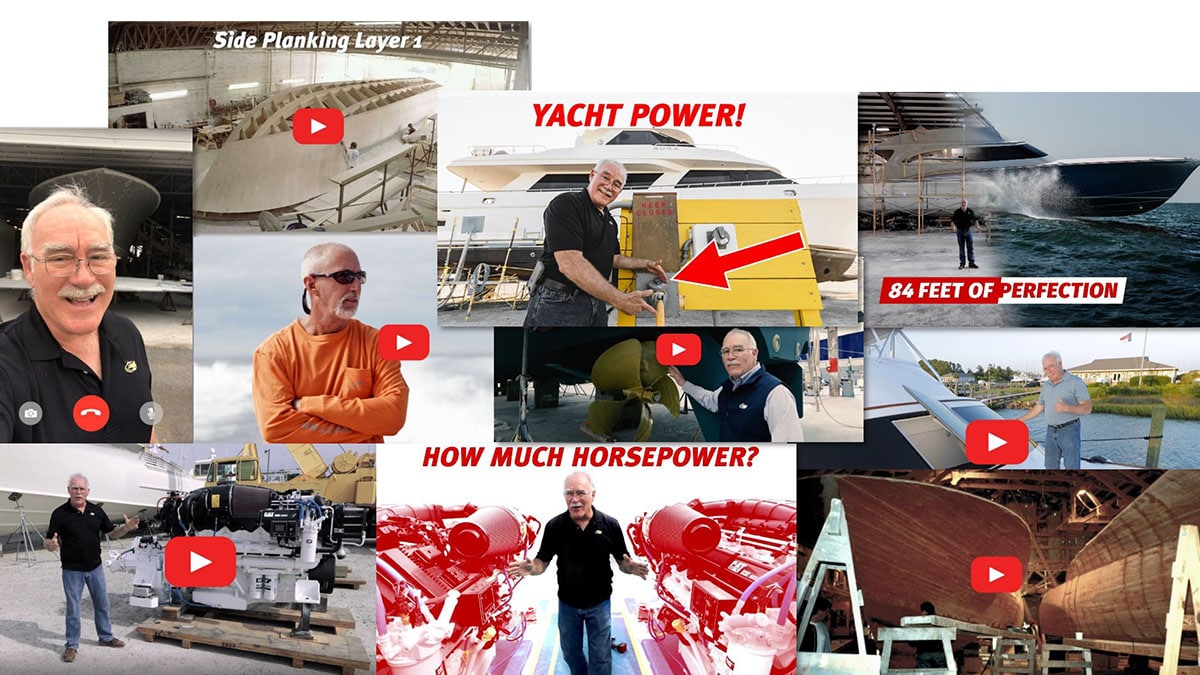 Marine Marketers of America (MMA)
has recognized marketing excellence with a prestigious 2020 Neptune Award in the
Video – Series
category presented for the
Jarrett Bay Insider
. A collaborative production by
Lift Films
and
Stealth Marketing
, with widely popular host and Jarrett Bay New Construction Foreman RV Hodge rounding out the Series's talented team; It is with great pride that Jarrett Bay's marketing communications are honored among our industry's greatest talent pool.
The 13th Annual MMA competition was open to any organization producing and publishing marine marketing materials between January 1 and December 31, 2020, and drew 129 entries in 20 categories. More than 70 marketing leaders from across the marine industry were involved in the judging process, and it was noted in their awards press announcement that the video production category garnered the most submissions for their review this year. Of Jarrett Bay's entry, the judges said:
"This (Jarrett Bay Insider) vlog is very engaging. The host is relatable, the content is interesting and informative. There is a good use of diagrams and live shots together. The series does a great job of positioning Jarrett Bays as high-quality vessels, and captures the essence of the company. The series works well together to deliver great content for their current client base and provide great insight for prospective clients as well."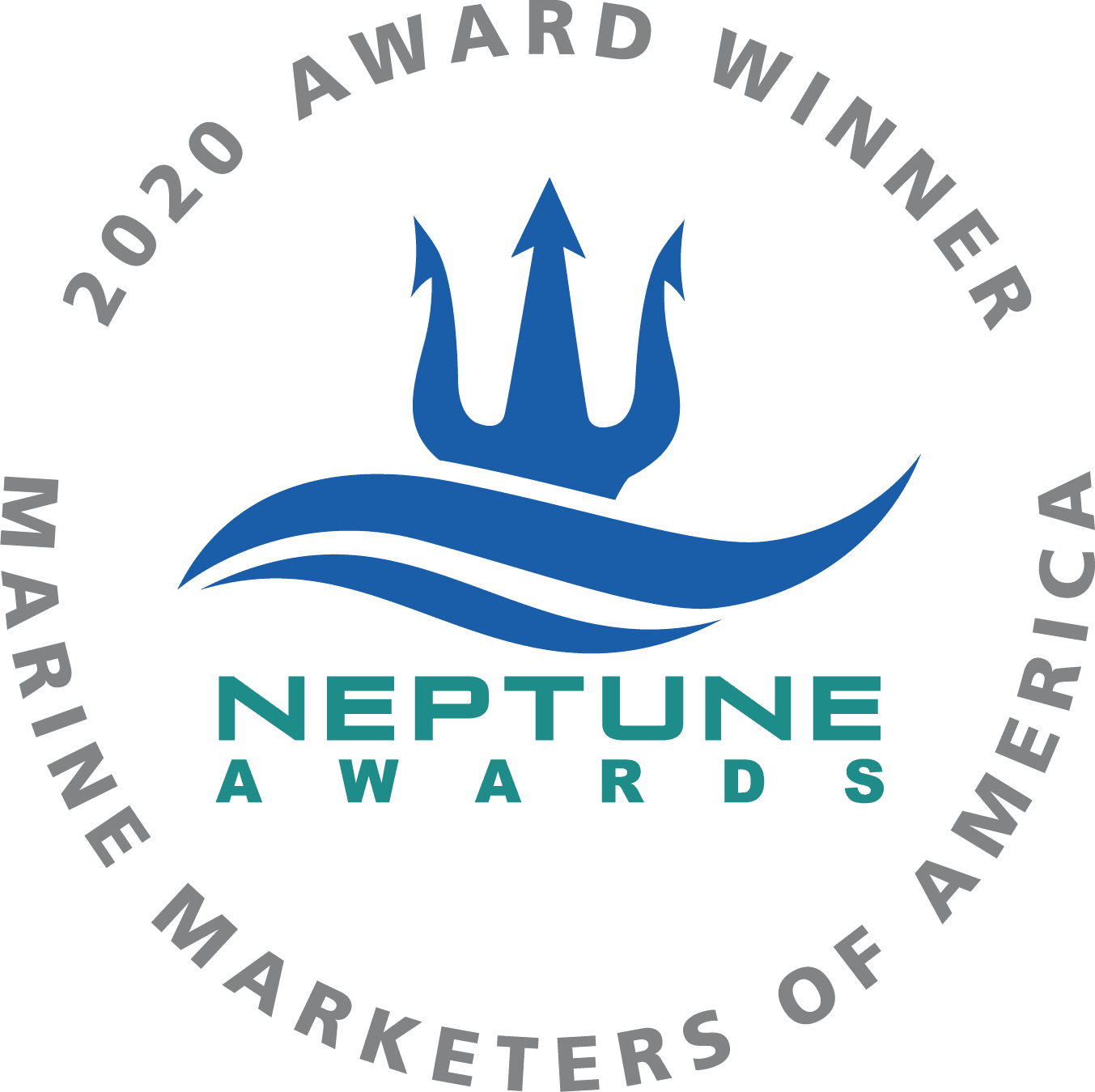 "It was clear from the variety and creativity of work submitted this year that companies were rethinking how they communicated and interacted with boaters in 2020 to accommodate the new ways of doing business in a socially distanced world," said Courtney Chalmers, president of MMA. "It's inspiring to see the new standards of excellence set by marketing professionals across the boating industry."
Kristen Frohnhoefer, vice president of MMA added, "We congratulate all of the Neptune Award winners. You are to be commended for elevating your marketing efforts to a new level through strategic and well-planned efforts."
About the Jarrett Bay Insider Vlog Series:
Jarrett Bay Insider (JBI)
is the evolution of the company's Carolina Flare Insider vlog series documenting the incredible craftsmanship that goes into the construction of our world-class custom sportfish boats. JBI adds new content on the innovations and expertise also applied to the repair and refit of recreational and commercial craft up to 300-tons in our 175-acre full-service facility in Beaufort North Carolina; as well as notable stories about our humble history and our amazing family of boat owners, crew and craftsmen.
About Marine Marketers of America
Established in 2007, the
Marine Marketers of America (MMA)
is the exclusive voice for marine marketers and the professional association representing recreational marine industry marketers. MMA provides ongoing professional development and networking opportunities while recognizing the outstanding achievement of marine marketing professionals through its annual Neptune Awards. For more information or to become an MMA member, please visit
www.marinemarketersofamerica.org
.
2020 Neptune Award Winners
:
Best Advertising Series: Pursuit Boats, "Pure.Evolution. Pursuit's All New S 378" – created by Pursuit Boats
Best Advertising Single or Spread: Boston Whaler Boats, "Start Living" single advertisement – created by Boston Whaler Boats and Dino Publishing
Best B2B Marketing: Gemeco Marine Accessories, Actisense "Legendary" advertisement – created by Gemeco Marine Accessories and Hawley Communications, LLC
Best Email Marketing: Boston Whaler Boats, "Roam from Home" – created by Boston Whaler Boats and Dino Publishing
Best Event Marketing/Grassroots Promotion: Marine Retailers Association of America, "Dealer Week Lunch and Learn" – created by Marine Retailers Association of America
Best Innovation: Yamaha Marine Group, "Helm Master EX" – created by Yamaha Marine Group
Best Integrated Marketing Campaign: Malibu Boats, "M220 Launch" – created by Malibu Boats
Best Newsletter Print and Digital: Pursuit Boats, "PURE.NEWS." – created by Pursuit Boats
Best Online Advertising: Siren Marine, "Father's Day Campaign" – created by Siren Marine
Best Public Relations: Yamaha Watercraft Group, "Superjet Consumer Campaign" – created by Yamaha Watercraft Group
Best Product Literature: Lowe Boats, "2021 Fish Boats and Pontoon Boats Catalogs" – created by Lowe Boats and Redfish Collective
Best Sales Promotion: MarineMax, "Your Crew" – created by Marine Max
Best Social Media: Siren Marine, "National Dog Day" – created by Siren Marine
Best Video, Single: Invincible Boats, "When You're Serious" – created by Invincible Boats and Markham & Stein
Best Video, Series: Jarrett Bay Boatworks, "Insider Vlog" – created by Jarret Bay Boatworks and Stealth Marketing
Best Website and 2020 King Neptune Award Winner: Sportsman Boats, "Sportsman Boats Website" – created by Sportsman Boats
Best Pandemic Marketing: Sea Tow, "Social Distancing When Boating" – created by SeaTow
---
2020 Neptune Award Honorable Mentions:
Advertising Series: Furuno, "T2 Touch 3"
Advertising Single or Spread: Sea Tow, "If You Don't Have This Card"
B2B Marketing: Sea Ray Boats, "Top of the Props"
Email Marketing: Yamaha Watercraft Group, "Yamaha Watercraft Owner CRM Program"
Innovation: Big Thunder Marine, "Virtual Boat Show"
Integrated Marketing Campaign: Boston Whaler, "Dauntless Launch"
Newsletters: Nautique Boats, "Monthly eNewsletter"
Online Advertising: Boston Whaler, "Spring Retail Promotion"
Product Literature: Maretron, "Product Catalog"
Sales Promotion: Grady White Boats, "MY2020 Winter Sales Promotion"
Social Media: Mercury Marine, "Miami International Boat Show 2020 & Center Consoles Campaign"
Video, Single: Boston Whaler, "Dauntless Launch"
Website: Yamaha Watercraft Group, "Build Your Yamaha Boat or WaveRunner Experience"