Jarrett Bay hull 55, Bench Mark, captained by Bobby Garmany, won the HMY-Viking MegaDock Billfish Tournament this past weekend. Bench Mark fished the first two days and went up early with 5 sailfish releases on Day 1. First thing on day 2 the crew released a blue marlin to help outpace the two blues caught on the Reel Passion later in the day. The results would hold through day 3.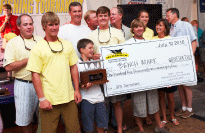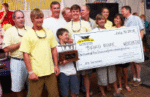 Also finishing on the leaderboard was the 58′ Jarrett Bay / Core Sound, Jabez (4th overall). They released 1 blue marlin & 3 sailfish for a total of 1200 points, which technically was a tie for third with the vessel Secotan.
Bench Mark is the "youngest" in the Jarrett Bay fleet, a beautiful 64 footer finished and splashed in December of last year. The crew's win marked the second consecutive year a Jarrett Bay boat won the HMY-Viking MegaDock tournament – in 2009, the 55′ Micabe took home top honors and also won the entire South Carolina Governor's Cup Series.
In other Jarrett Bay related tournament news from the same weekend, the 54′ Chainlink won the meat fish category in the Hatteras Grand Slam.
Congrats to all who placed and participated in the bevy of sport fishing tournaments this past week!
Read more about Bench Mark's win at the MegaDock from the Post and Courier:
The final day of the HMY/Viking MegaDock Billfish Tournament boiled down to a "can't lose" scenario for the crews of Bench Mark and Reel Passion. The crew members and boat owners are good friends, and the son of the Bench Mark's captain is first mate on Reel Passion.

Bench Mark, a 64-foot Jarrett Bay owned by Stephen Davis, had already used its two allotted fishing days Thursday and Friday, releasing five sailfish and one blue marlin for 1,600 points. Reel Passion, a 48-foot Richie Howell owned by Bill Ingram, had vaulted into second place by releasing two blue marlin on 20-pound sailfish tackle on Friday with an opportunity to catch Bench Mark on Saturday.

Shortly after 3 p.m., Bench Mark captain Bobby Garmany received a satellite phone call from his 17-year-old son Thomas. The message was short and telling.

"Congratulations Dad," Thomas said.

Reel Passion released a sailfish Saturday to earn 200 more points and had a white marlin nosing around the baits 30 minutes before quitting time but could not entice a bite.

"When we went to bed last night there were small craft warnings, so we were happy to get an opportunity," Ingram said.

Davis said he didn't shave Saturday because he "didn't want to change the mojo," but said he would have been just as happy if the outcome had been reversed. And that was pretty obvious from the interaction between the two crews after Reel Passion pulled into the slip behind Bench Mark late Saturday.

This was the first tournament win for the Bench Mark crew, who began fishing together three years ago and launched the current boat in late December.

"It's sort of like golf," Garmany said. "You want to set the bar. I don't care what sport, if you're behind, it's hard to catch up."

Bench Mark earned a total of $105,184 in the tournament, while Reel Passion won $61,708. Secotan finished third with 1,200 points for releasing three sailfish and a blue marlin, while Jabez also had 1,200 points with one blue marlin and three sailfish.

Only 14 boats were eligible to fish Saturday, and they released one blue marlin and five sailfish. During the three days of fishing, the 62 boats released a total 14 blue marlin, three white marlin and 64 sailfish.

The non-billfish winners were: Dolphin — Miss Magnolia, 50.6 pounds; Tuna — Gusto IV, 12.2; and Wahoo — Mindset, 42.0.

The tournament was the fourth of five events in the South Carolina Governor's Cup Billfishing Series. Caramba, which had won two tournaments in a row and leads the overall series with 3,075 points, did not release a billfish in the MegaDock Tournament. Neither did second-place Game On, which has 2,475 points.

The final event in the 2010 Governor's Cup is the Edisto Marina Billfish Tournament, which is July 28-31.