A note to the Jarrett Bay staff & family from founder Randy Ramsey on this 24th anniversary of Jarrett Bay Boatworks:
While this is a typical morning today at Jarrett Bay, it is very different from this day 24 years ago when a very small group of people gathered together to clean out an old boat shed for the purpose of building a boat that would become the signature of our company. When I see the "Sensation" today I can't help but think about the changes that have been made to our boats over the years.
While each boat has had a unique style all her own one thing has remained consistent, the love and pride the craftsmen and women put into each one. Over the years we have moved locations several times, seen members of our family move on to other endeavors, built anindustrial park, watched our service and sales companies grow to the largest in the region and start a brand that we can all be proud of.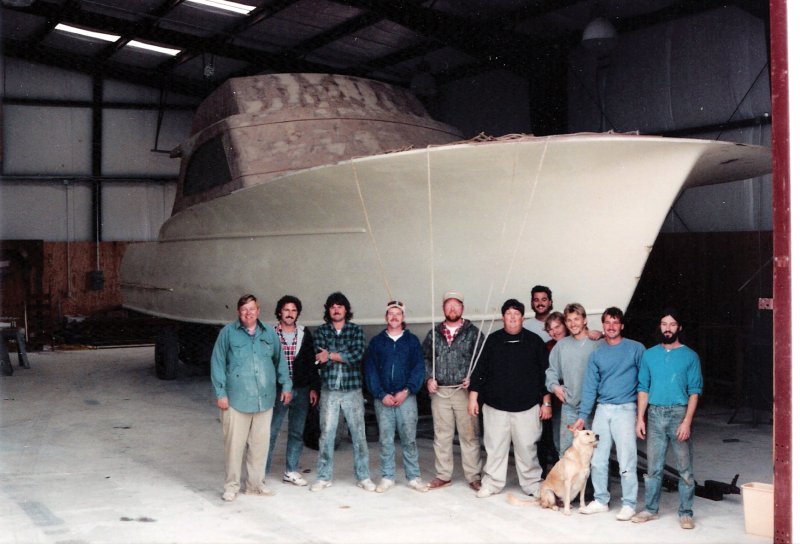 Through the years people like Jim Luxton, Jack Huddle, Cab Ramsey, Bucky Dennis, Gene Vogler, Clark Jenkins and Joy Gaskill have shared our dreams and each have shared the same sense of family that we feel with every person who has worked here and every person we have built a boat for. Without the dedication of each person we would not be where we are today and I am personally grateful to know them.
In 2011 we start the celebration of our 25th year in business. We have already made plans to celebrate this year with special promotions starting with the launch Jeff Burton's boat at the Miami Boat Show in February. I believe this is a perfect way to showcase a quarter century of innovation since this boat is a complete departure from any sportfishing boat built in the modern era and is another testament to the innovation and dedication of our family, much like that displayed 24 years ago. Throughout 2011, we will be working to recognize a person each month that has made considerable contributions to our success, some of whom you may not have even met. We are planning a number of products and events to celebrate the 25th anniversary, including a reunion party later in the year, so stay tuned for more information on that.

It has been an honor to be part of this company and I am humbled by the dedication and confidence others have had in what we could do together. While times have not always been easy one thing is for sure, together we can accomplish great things – today, and for the next 25 years.

Thank you!

Randy