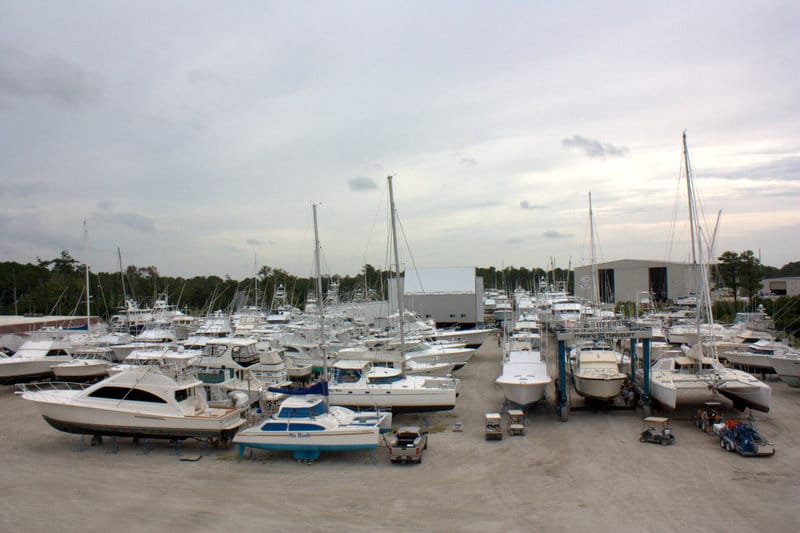 We received a lot of great feedback from our service customers during and after the marathon haul-out session for Hurricane Earl (we hauled 120 vessels in just over three days). Here are few of the messages we received – thank you every one!
This was my first experience with haul out service. I was early, as I usually am anywhere I go, and figured that I would wait. Wait was not going to happen! I arrived, tied up and left My Paramour to your crew. I was very impressed with every part of the operation.

I got to meet Jeff and Mr. Lawrence. You all did great and if this service is representative of your other services, I'll certainly consider using Jarrett Bay in the future.

Thanks and let me know when I can come get her.
Leroy, My Paramour
---
You guys are Awesome!
John O'Neal
---
Kendra everyone has done an outstanding job getting the boats out! It could not have went any smoother. I just hope you get me back in for my charter on Monday. Thanks again for everything.
Capt. Shane Brafford
---
I had no issues with my haul out.  In fact, I found the crew very accommodating, courteous and professional. Please give them my compliments.
Ron Biggers, Valerie Jean
---
Great job by all JBW folks… smoothest haul-out operation yet… very efficient… great attitudes by everyone…and the email communications were a super addition to the process!
Many thanks.
Troy Smith Jr.
---
Jeff,
I want to thank you for your help with getting my boat pulled and having the bottom repainted. You went beyond the call of duty and I really appreciate it. I look forward to doing future business with Jarrett Bay.
Larry Holler, Sea Venture
We'd like to send out one last THANK YOU to all of our customers & our great staff that worked so hard to accomplish our goals during this storm event.
More photos of the yard during Hurricane Earl can be found in this Facebook album, or learn more about our Hurricane Haul Out program here on our web site.