We're very proud and excited to congratulate Jarrett Bay hull #42, the 55′ Micabe on winning the 2012 MegaDock Billfish Tournament AND on becoming the first boat in the tournament's history to win a second time! They previously won the 2009 MegaDock Tournament. Coupled with Bench Mark's win in 2010, a Jarrett Bay-built boat has won the tournament 3 of the last 4 years!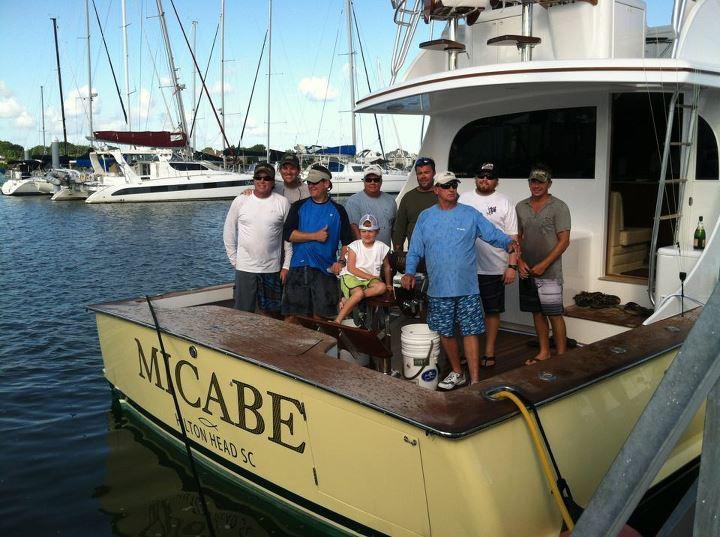 From the Post and Courier:
Micabe, owned by Mike Larrow and captained by Jay Weaver, won the MegaDock Billfishing Tournament for the second time in four years Saturday, piling up 1,000 release points on the final day to overtake Reel Passion.

Micabe caught a blue marlin (600 points) and two sailfish (200 points each) to go along with a blue and a sailfish caught on Thursday and finished with 1,800 points. Micabe also won the 2009 MegaDock tournament with 1,800 points, releasing nine sailfish that year.

Reel Passion, owned by Bill Ingram and captained by Gary Richardson, was unable to score any release points Saturday and finished with 1,400 points for two blue marlin and a sailfish.

Caramba, second going into the final day, added a sailfish release and also finished with 1,400 points but placed third based on time of release. Caramba is owned by Bob Faith and captained by Dale Lackey.

Participants released 33 billfish Saturday, including six blue marlin, bringing the tournament release total to 71.

The non-billfish category winners were: Wahoo — El Tejano, 57.4 pounds; Dolphin — Lucky Hooker, 45.4 pounds; and Tuna — Rookie IV, 14.6 pounds.

The MegaDock Tournament, which was celebrating its 10th anniversary, paid out a total of $235,000 in prize money. It was the fourth of five events that comprise the South Carolina Governor's Cup Billfishing Series.

The final event of 2012 is the Edisto Marina Billfish Tournament, scheduled July 25-28.