The crew aboard the 58′ Jarrett Bay, Whoo Dat has been on top of an exceptional blue marlin bite this summer.
After taking ownership and upgrading the boat at Jarrett Bay in 2012, Whoo Dat was led south by Captain Chris "Marlin" Hood and owner Keith Richardson. Since then, their tight knit group of crew, family and friends have made trips to fish premiere locations off Florida and the Bahamas, but have really been on a tear closer to home – Grand Isle, Louisiana.
In early July, Whoo Dat was one of fifty teams participating in the Blue Marlin Grand Championship, hosted out of Orange Beach, Alabama and was one of the first boats to catch and boat a large blue marlin. Ultimately their fish was bested by not one, but two, unprecedented catches – two consecutive marlin shattering the Alabama state record – but angler Angelo DePaola's 426 lbs. blue was a respectable catch and held the leader board through the first night.
Following the team's adventures chronologically, Whoo Dat then embarked on several "fun fishing" trips around the oil rigs and fertile fishing grounds of the Northern Gulf.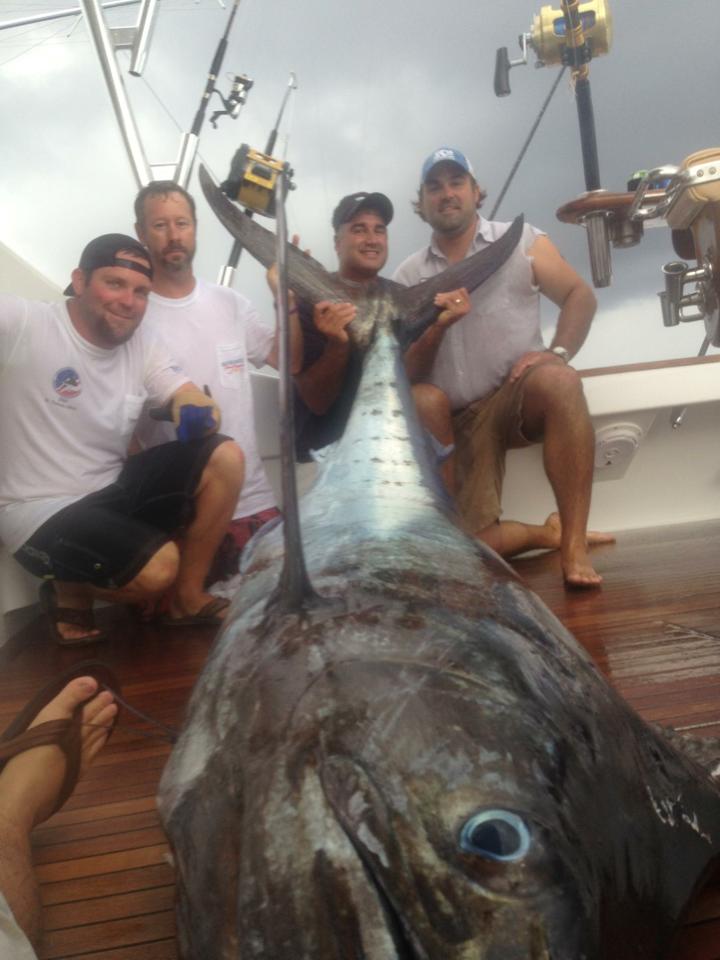 On July 17th, the team put 10 year old Kaleb Richardson and his friend Cole on 4 blue marlin, with the experienced junior angling duo releasing 2 blues apiece. What made this trip extra special was at least one of the fish was initially spotted by the crew of a passing workboat, the Ted Smith, who radio-ed the Whoo Dat and stuck around to take video of Kaleb catching and releasing the blue marlin!
Fast forward to the last weekend of July and the International Grand Isle Tarpon Rodeo, which hosts an open format Big Game Division that team Whoo Dat entered. Fishing the Green Canyon on Friday afternoon they hooked up on a fish that started an epic, 13 hour tug-of-war that didn't end until about 2:30 a.m. Saturday morning. "We must have had the wire at least 20 times," angler Ben Bernard said. "I lost track… But this fish kept us on our toes the entire time." With a fight that long, there's plenty more to the story, but the team successfully boated the fish and headed North for the weigh station, where they hung their impressive 705 lbs. blue – the second largest fish in the 85 year history of the Grand Isle Rodeo – to much fanfare.
Finally, the guys were right back out on the water this past weekend having a great time releasing blue marlin during the CCA Legislator's Rodeo!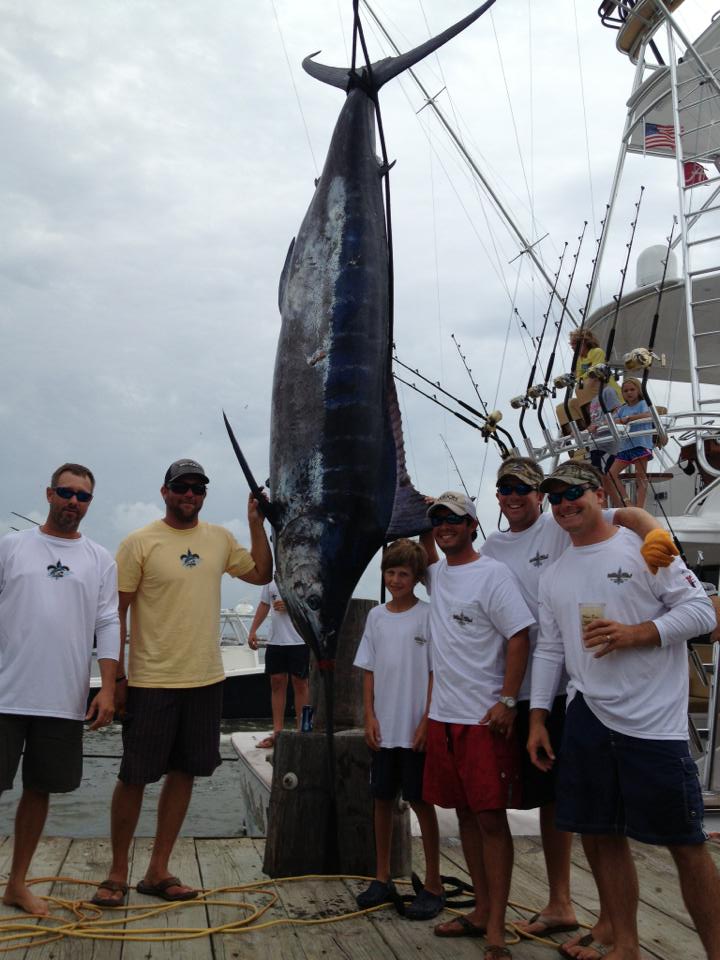 We'd like to congratulate and thank Keith, Chris and the various Whoo Dat anglers and crew for representing us so well to the Gulf sport fishing community and sharing their stories, photos and video with the Jarrett Bay family!